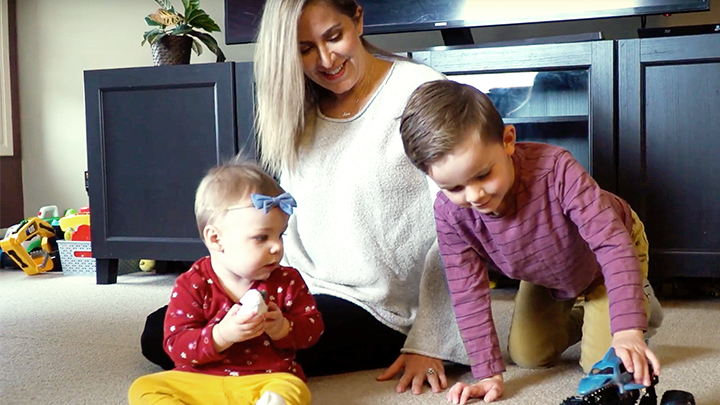 Mother-of-two Julia Nimilowich uses MyAHS Connect — a part of Connect Care — to manage her healthcare, monitor her chronic conditions and reach out to her healthcare team.
Mother of two grateful to access her health information
Julia Nimilowich thought she was just tired.
She was, after all, a mother of two children: a four year old and an eight month old, who wasn't sleeping.
"I'm a busy mom," she says.
However, because she had access to her health records through the MyAHS Connect app, the 35-year-old Edmonton woman could see the results of a recent blood test that showed there was likely another, more serious reason for her fatigue.
"My TSH (thyroid-stimulating hormone) levels were off the chart," says Nimilowich, who was diagnosed with a blood disorder at age 16 and multiple sclerosis when she was 19.
She needed to respond quickly. And she did.
"I was able to see that result and message my endocrinologist right away. She called me right back at 10:30 that night because she was going on vacation (the next day) and we were able to come up a plan. And I really feel that wouldn't have happened if I didn't have (MyAHS Connect).
"It was a life-saver for me."
MyAHS Connect is part of Alberta Health Services' Connect Care project. It will give Albertans an opportunity to access their health information, including test results, and to contact their healthcare providers through their mobile devices.
"It's allowed me to be an advocate for myself in the healthcare system and to advocate for my own health," Nimilowich says. "I can see my results of my different various tests; not just blood tests, but sometimes MRIs, sometimes whatever else test is going on."
AHS Connect is currently available to patients of the University of Alberta Hospital in Edmonton and is expected to be available to all Albertans by late 2022.
Nimilowich believes it's important for all Albertans to have access to their health information so they can be involved in their own care.
"Being diagnosed with a chronic illness has really changed my whole life and living with a chronic makes you more aware of everything that's going on with your healthcare and with your body," she says.
"You have to really be diligent about looking after it and seeing what's going on. I really believe this patient portal will help Albertans to advocate for themselves — for their own healthcare. You can see your results and be more educated. And I think that's really important."