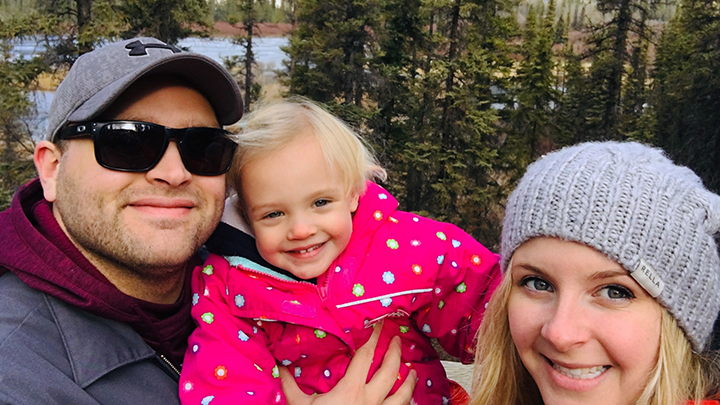 Zoey Argue, centre, enjoys a day in the mountains with her parents Bryan and Sarah. Now a healthy, happy toddler, Zoey spent the first two months of her life in a Neonatal Intensive Care Unit. Sarah says awareness of prematurity is an important issue because its impacts can be lasting and far-reaching.
World Prematurity Day promotes awareness of their impact on families
Story by Blain Fairbairn | Photo by Sarah Argue
CALGARY — No parent can ever fully prepare for the fear and stress of that comes with the news that their baby is arriving prematurely. But for almost 10 per cent of all expectant mothers in Calgary, that's reality. Loralie Johnson lived that unfortunate reality when her second child, Ivan, was born at just 24 weeks.
A full-term pregnancy runs 37 to 40 weeks. That made little Ivan, who's now two, 'extremely preterm' and among the most fragile of babies. He spent the first 137 days of his life in the Neonatal Intensive Care Units (NICUs) of two Calgary hospitals — and the effects of his early birth still impact Ivan and his family today.
"I made it to 12 weeks and everything was fine," Loralie says of her pregnancy. "I told my work I was pregnant — and then the next week I discovered I had a blood clot that eventually caused me to go into labour very early.
"I didn't know what it was like to have a baby born that premature," adds the mother of two, whose first son, Otto, was born without complication.
"I had a vision of the worst, and so did my husband. We thought we may have a really disabled child who would totally change our lives where one of us would have to quit work to stay home with him, or we'd have to move out of our house because it's a two-storey."
Johnson and her family were one of many who took part in World Prematurity Day (WPD) events held in countries around the world on Sunday. Observed annually on Nov. 17, WPD raises awareness of preterm birth and its impact on families and healthcare systems.
The Johnsons celebrated the day at the Foothills Medical Centre's NICU Graduate Tea with another family, Sarah and Bryan Argue and their toddler Zoey. Born at 29 weeks on Dec. 2, 2016, Zoey spent almost two months in the NICU. Despite their anxieties during this time, the Argues say they're grateful for the education and support they received from Zoey's care team.
"Zoey was in Level 3 care for the first few days," says Sarah, referring to the highest level of intensive care premature babies can receive. "The first 72 hours were critical; she's intubated and hooked up to machines and, as first-time parents, we had no idea what any of that meant. It was all really scary."
Bryan adds: "But after a week into it we understood what the CPAP (Continuous Positive Airway Pressure) levels and all the beeps meant. Her nurses and doctors really empowered us to take an active role in her care and that was super helpful — especially when it came time to bring her home. At that point we really didn't have any fears of how to take care of her."
According to the Alberta Perinatal Health Program, just over nine per cent of babies born in the province in 2018 were premature. Many factors can contribute to prematurity, including a mother's pre-existing health conditions, use of alcohol and tobacco and in vitro fertilization treatments, which can result in multiple births.
"These are our tiniest humans," says Sarah. "They're the ones who are going to be running the world in 30 years. We need to bring awareness to the issue to drive funding and research to give them a fighting chance."
For more information on prematurity and how you can support neonatal intensive care in Calgary, please visit Newborns Need.