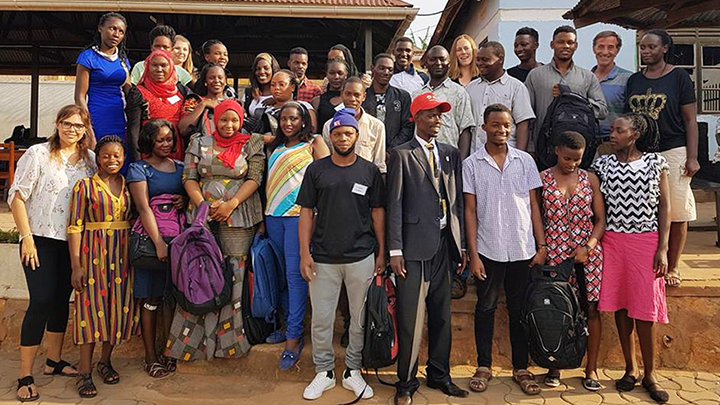 Canada Uganda EMS Society (CUES) volunteers who taught Ugandan EMS students in February 2019 include, from left, Denise Vanderkooi, Helena Gonzalez, Megan Hall and Paul Godel, an AHS primary care paramedic and founder of CUES.
Canada Uganda EMS Society aims to establish reliable ambulance service in Kampala
Story by Diana Rinne
Paul Godel will head to Uganda for his third year in a row this coming February. By the time this Alberta Health Services (AHS) primary care paramedic and his fellow volunteers with the Canada Uganda EMS Society (CUES) head home, they hope to have established a no-cost ambulance service in Kawempe, a low-income area in Uganda's capital city of Kampala.
The society's mission is to develop a grassroots Emergency Medical Service (EMS) program in Kampala, forming a registered Ugandan non-profit organization to operate the service.
"The plan is to raise enough money to purchase a used Japanese ambulance, outfit it and staff it, and run it for at least a year," says Godel, also the founder of CUES.
With a budget of around $100,000 for the vehicle, supplies and support for its first year, the society is getting close to having the funding to purchase the ambulance by the end of this year.
"It's dirt cheap compared to here," he says. "For $100,000 we can do it easily. Hopefully we will be able to purchase the ambulance in December and have it ready to go and start things in March 2020.
"We have some wonderful people there who are already stepping up big time," he adds. "We are hoping it will take off and grow. The whole idea is starting with the grass roots. It's the local people who are buying in and we are building from the bottom up. We are hoping we will walk away with a template that anybody can use."
With a goal to provide quality accessible pre-hospital emergency care to the people of Kampala, Godel says Kawempe is in dire need of such a service.
"In Uganda, many of the ambulances are a for-profit operation and for those who live in the poor areas, it can cost them three or four months of wages or more to pay for one ambulance service," he explains.
It's a very different world than the one Godel deals with as a primary care paramedic for AHS. Uganda's EMS program is unreliable.
"Even if you have money, the ambulance can be anywhere from one hour to six hours, depending if they have gas, staffing, if they are running," says Godel.
Three years ago, Godel a former teacher and school administrator, began looking at options for volunteering overseas and turned to Uganda, where his father had spent time as a volunteer.
"He was a pediatrician and he started a string of mother and child health clinics in the northwest area of Uganda," he says. "So Uganda was kind of a natural for me."
After doing some research, Godel contacted the non-governmental organization (NGO) Hapa Resources with the intention of helping with some health outreach. As he learned more about the terrible condition of the EMS system in the country, his plan changed.
"I told my contact at Hapa, 'Look, I can do some first-responder courses when I'm there.' Twenty-four hours later, he sent me a message saying he had 40 people registered."
Godel recruited two more volunteers to go to Uganda to teach basic first-responder courses in February 2018. "It was very well-received," he says, noting that "most of our volunteers are Alberta paramedics."
In February 2019, Godel returned to Kawempe with three volunteers to teach both a beginning and an advanced first-responder course. "We got them very close to an Alberta EMR level in that month."
When the CUES team returns this coming February, Godel says they will be again teaching both basic and advanced first-responder courses, with the hope of having enough people trained to the World Health Organization (WHO) minimum level for EMS, to be able to start the ambulance service in March.
Right now, the focus is on raising enough funding to get the ambulance service up and operational for a full year.
"The ambulance itself will be around $20,000 to $25,000 and we are very close to that," says Godel. In addition to working with service clubs, the society has set up a GoFundMe account.
For more information, please check out the CUES website.