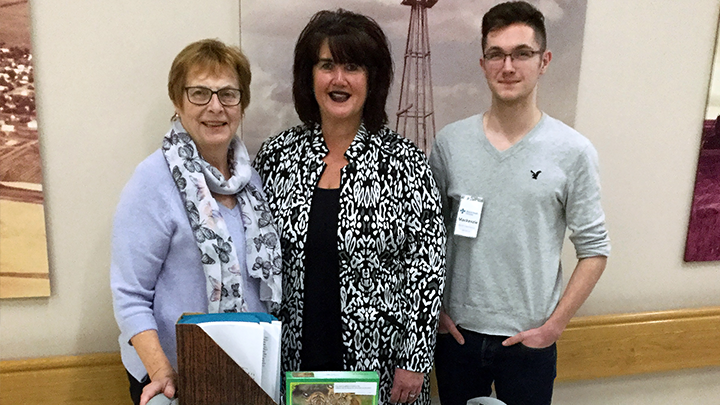 Marion Johnson, left, Ruth Wold and Mackenzie Harback.
Sharing crafts builds meaningful connections between volunteers and patients
Story by Yolanda Genu | Photo by Melissa Gunn
THREE HILLS — Mackenzie Harback invested in his future career a year ago when he began his student work experience volunteer program at Three Hills Health Centre (THHC). Every Friday afternoon, he would roll the art cart around the acute care unit, providing patients with free art projects such as colouring books, crayons, drawing materials as well as other diversions such as crossword puzzles and playing cards.
In addition to giving patients something to help them pass the time, volunteering gave Harback a chance to connect with patients and solidified for him that healthcare is where he wants to work.
"It's important to give back to the people who've been working in their communities and to show them they're not forgotten," says Harback, who admits to being nervous about volunteering at first. "When I took the cart around, I encouraged patients to pick what they would like, and I would be able to visit with them a bit, too."
Lynn Gray, manager of Volunteer Resources and Spiritual Care, says the art cart program offers volunteers like Harback the opportunity to engage with patients in a small, yet meaningful way.
"Stopping to have a friendly visit with the patient, before visiting the next patient, may be that moment in a patient's day that brings a genuine smile to their face," says Gray.
"We are so truly grateful for volunteers like Harback who offer their time and compassion. And we are so thankful for the sponsorship of this program by our auxilians."
Art cart supplies are funded through donations from the Three Hills Health Care Centre Auxiliary. Formed in 1989, and currently with 12 members, the group's mandate is to purchase equipment for the health centre, with a focus on acute care and continuing care units.
"Through personal, community and corporate donations — as well as participating at various fundraising events in the zone — the auxiliary group is also able to supply items for the Shock Trauma Air Rescue Service periodically," says Marion Johnson, group president.
The auxiliary also has a display cabinet at THHC, where they sell community handmade and store-bought gifts and clothes for babies. They're currently raising funds to buy a chair for long-term care.
The art cart program is a new venture, introduced to the site last fall, with support from the auxiliary, volunteers like Harback and site leadership alike.
"We spearheaded the program in Three Hills (in October 2018) and we're proud of the work of Harback and his ability to connect with our patients," says Ruth Wold, site manager at Three Hills.
Harback first heard about the student work experience volunteer program from Prairie Christian Academy high school graduates who also took part. Through volunteering, Harback earned five credits for every 75 volunteer hours over the past school year and learned valuable life skills such as teamwork, interpersonal communications and the importance of giving back to his community.
Beyond that, he also received real-life insight into his future healthcare career, as Harback is planning to study nursing.
He adds: "I'm excited to move on to the next step."