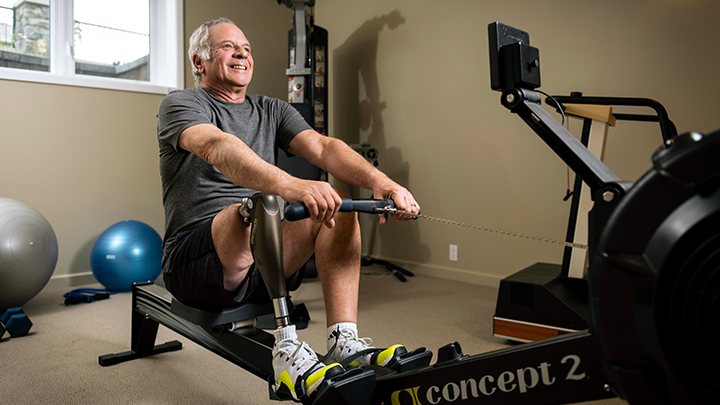 Lawrence Lyman received osseointegration in Australia and says it drastically changed his life. The University Hospital Foundation is currently raising funds to bring this procedure to the University of Alberta Hospital.
University Hospital Foundation aims to bring osseointegration to Alberta
Story by Amelia Schofield
EDMONTON — The University Hospital Foundation is raising funds to bring an innovative procedure to the University of Alberta Hospital which could change the lives of Albertans with lower-limb amputations.
The procedure, called osseointegration, aims to improve comfort, stability and mobility for people living with a lower prosthetic limb.
During the procedure, the surgeon inserts a titanium implant into the bone of a patient's amputated limb which can then directly attach to their prosthetic limb, providing a more comfortable and stable prosthesis than a traditional socket interface.
Lawrence Lyman, whose lower right leg was amputated and who underwent osseointegration in Australia, says the procedure has positively impacted his life.
"Osseointegration surgery has drastically changed my life. Prior to the surgery, I was basically living in pain most of the time. Now I have zero pain. I get up in the morning and I put my leg on. It takes me five seconds and I'm off to work," says Lyman, who supports the University Hospital Foundation in their fundraising efforts.
"Once I saw what it's done for me and improved my lifestyle and my outlook on life, I had to get involved."
Dr. Jacqueline Hebert, Physical Medicine and Rehabilitation Specialist at the Glenrose Rehabilitation Hospital, says the procedure could have a significant impact on the quality of many people's lives.
"This is an amazing advancement that mechanically and physically connects a person to their prosthetic limb. People want to get back to doing what they want to do on a daily basis and not be limited by their mobility. It is revolutionary — an absolute game-changing procedure," she adds.
"Thank you to the University Hospital Foundation for their support toward bringing osseointegration to our province."
The foundation is now actively raising funds toward the cost of implants, research necessary to track the outcomes and the health economic implications of bringing osseointegration to Alberta.
Funds raised from both the foundation's 2019 Festival of Trees this past November and their Giving Tuesday campaign in early December are being directed toward the cause.
Christy Holtby, Interim President & CEO of the University Hospital Foundation, says community support is essential to making this procedure a reality for Albertans.
"Thanks to our generous supporters, the University Hospital Foundation will be able to support bringing this gold-level standard of care to Albertans and improve quality of life for people living with lower limb amputations," she says.
"It's because of our community members that we can continue to push the boundaries of care and research for Edmontonians, Albertans and beyond."
For more information on how to support the University Hospital Foundation, visit givetouhf.ca.