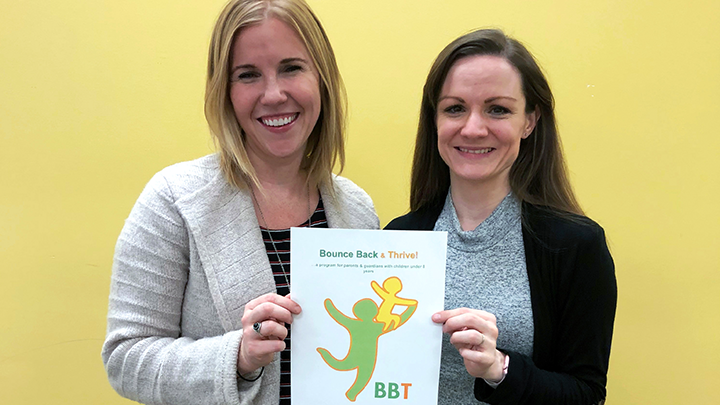 Elizabeth Benner, Infant and Child Development coordinator with AHS' North Zone Early Childhood Intervention Program, and Stacey Marche, a Registered Public Health Nurse, show off their Bounce Back and Thrive poster.
Bounce Back and Thrive inspires positive role models
Story by Logan Clow
FORT McMURRAY — A resiliency-skills training program is providing parents here with skills and resources to bounce back from stress and hard times.
Bounce Back and Thrive (BB&T) is a free, 10-week Alberta Health Services (AHS) program for parents with children under the age of 8.
Elizabeth Benner, infant and child development coordinator with AHS' North Zone Early Childhood Intervention Program, says BB&T reminds parents that children have stresses — and how they respond to stress is influenced by watching how their parents respond to daily challenges.
"The goal of Bounce Back and Thrive is to teach participants how they can be a positive role model and support their children," says Benner.
Fort McMurray is the only Alberta community where AHS currently offers BB&T, a program piloted in Ontario. Since 2014, BB&T has been offered twice a year in Fort McMurray.
The program is divided into two parts. Parents first learn the resiliency skills and tools they can use to provide a caring relationship and role model skills to their children. In the final weeks, parents then begin applying resiliency-building strategies with their children.
"Most parents find the program validating because they're able to learn from each other's experiences, and they're able to share their own struggles and successes in a welcoming environment," adds Benner.
The two-hour sessions are facilitated by AHS staff, with room for 14 parents. Benner recommends that both guardians attend all 10 sessions.
Fort McMurray mom Carla Thompson is one parent who says she's benefited from BB&T — and still makes use of the resiliency skills she picked up by taking the program three years ago.
"Initially, when I joined, I was struggling with my six-year-old son. I wasn't able to control or understand his behaviour or frustrations," says Thompson. "By taking the program, not only did I learn how to help my son with his emotions, but I also learned how to control my own.
"I was really impressed with how comfortable, supportive and encouraging the group is. Everybody is open to learning from each other. There's a lot of support from the facilitators and other participants."
Laura Blake, a mother of four, has enrolled in BB&T for her third time, and says she's still learning new resiliency-building skills.
"I really like the skill-building aspect of it. You're learning new skills and information each week, and it isn't overwhelming," says Blake. "You're able to take what you've learned each week and apply it at home and in your everyday life. The skills I've learned from the program have really benefited my family and I.
"I also liked how, within the group setting, you realize that there are other parents going through similar experiences. That really makes what you learn more impactful — and it makes the learning environment and dialogue more comfortable and open."
BB&T is offered to participants for free, thanks to a donation from the Royal Bank of Canada to the Northern Lights Health Foundation.
For more information about the program, call 780-714-5616.