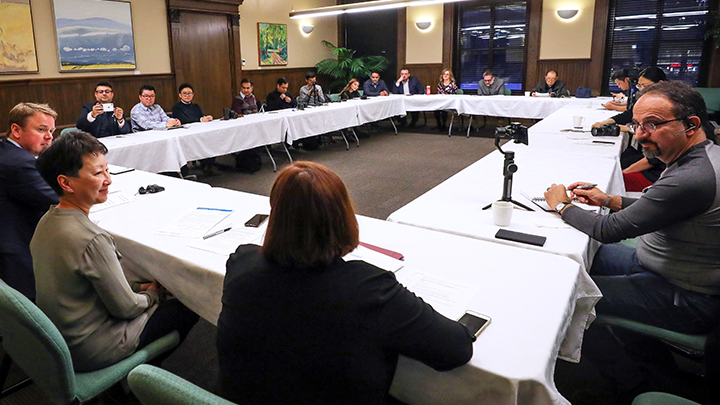 Alberta Health Services and Alberta Health leadership recently met in Calgary with reporters and editors from ethnic media to discuss AHS' initiatives to increase access to health information in eight languages.
Online resource offers eight languages to serve Alberta's diverse population
Story by Niall Emmott
Breaking down language barriers is one way Alberta Health Services (AHS) strives to provide the highest quality of healthcare to all Albertans.
Important health information is now available in eight additional languages to meet the needs of more patients and staff — Arabic, Traditional Chinese (Cantonese), Simplified Chinese (Mandarin), French, Punjabi, Spanish, Tigrinya and Vietnamese. Historically, these languages have received the most requests for translation services. More languages will be added in the future.
Translations give details on: how to access 811, know your options, up-to-date emergency department wait times as well as a video providing a high level overview of services available.
"We are here to help Albertans of all cultures and ethnicities get the care they need, when they need it. We are committed to creating a health system that is accessible to everyone living in Alberta," says Dr. Verna Yiu, AHS President and CEO.
Over the past year, AHS provided 1.2 million minutes of telephone interpretation services — in 81 languages — to patients across Alberta.
AHS' Interpretation and Translation Services program ensures that any AHS patient requiring interpretation services is connected, in real time, to supports that are available 24-7.
Having more information translated online will also allow staff to better serve Albertans.
"The challenge for the health sector is to cover and provide proper care to all Albertans, by breaking down the language barrier," says Carlos Herrera, a procurement specialist with Addiction and Mental Health.
"Alberta Health Services' intention to provide services in different languages will help Albertans of all cultures and ethnicities get the care they need, in their own language, when they need it."