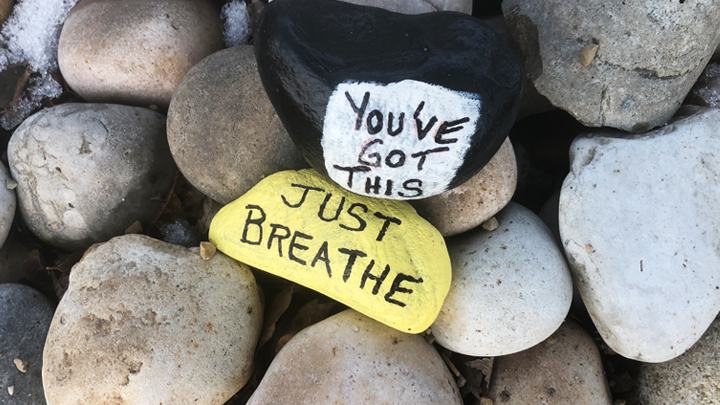 Stones painted with inspiring messages have been popping up around the Cross Cancer Institute, thanks to a collaboration with Wellspring Edmonton, which saw people who've been touched by cancer decorate river stones with inspiring messages and brightly-coloured designs. The stones adorned a summer display in the Healing Garden as well as the Patient and Family Resource Centre. Although the project is now complete, individuals can still be spotted leaving rocks around the centre to welcome all to the site.
Brightly-painted river stones adorned with uplifting messages
Story & photo by Vanessa Gomez
EDMONTON — Mysterious painted stones have been appearing around the Cross Cancer Institute — but there's no mystery behind their heartfelt intention.
The brightly-coloured stones can be traced back to a collaboration with Wellspring Edmonton in the spring of 2019, where they provided river stones and art supplies to people affected by cancer — and encouraged them to create inspiring "touchstones" to evoke feelings of hope and healing.
"We wanted to showcase the artwork of those who have been touched by cancer, including patients, oncology residents and anyone supportive of those with cancer," says Susan Carr, a former cancer patient. She's now a member of the volunteer association's Healing Garden committee, which arranged the partnership with Wellspring.
Wellspring Edmonton is an organization that focuses on the emotional, practical, physical and spiritual needs of anyone affected by cancer. The centre offers unique workshops, classes and individual support services delivered by professionals and trained volunteers, many of whom have their own experience with cancer. Programs include expressive arts, music, bereavement support and gentle exercise.
The touchstones are hand-painted with colourful designs and inspirational messages, such as "one day at a time" or "believe".
One collection of stones featured in a display within the Healing Garden at the Cross, while others were displayed at the Patient and Family Resource Centre, where newcomers to the facility were invited to take home a stone that inspired them.
"Sometimes there are no words to offer in certain moments," says Dr. Marilyn Hundleby, Director of Programs at Wellspring Edmonton. "These touchstones are meant to ease a person's sense of aloneness and vulnerability. It's often simple things that have can have a big effect in such moments."
In addition to bringing comfort, the creative process plays an important role in a person's overall well-being.
"Creativity is about problem solving. We often find a number of ways to consider a situation, which can be so helpful when you are dealing with life's complex challenges," adds Dr. Hundleby.
While the feature display is has since been taken down in the Healing Garden, people can still be seen leaving thoughtful touchstones around the Cross to uplift those who have been touched by cancer — reflecting the many benefits of both creating and receiving the stones.
"A touchstone benefits the person creating it and the person receiving it," says Dr. Hundleby. "Some say it's very therapeutic to be able to touch the lives of people we may never meet in this special way."