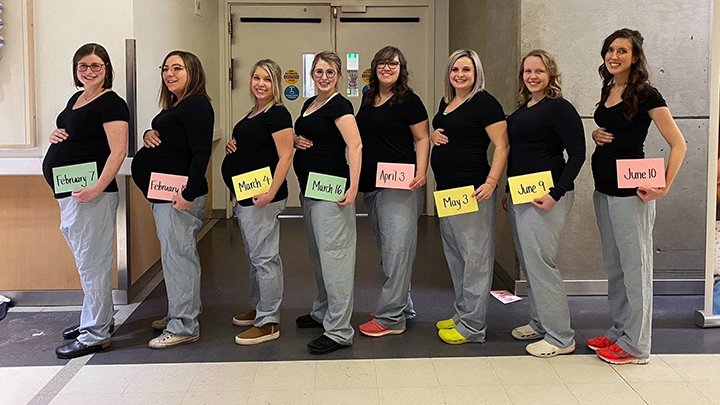 Fourteen nurses in the Labour and Delivery Unit at the Royal Alexandra Hospital — including Kristy Guidinger, left, Kate Saunderson, Alycia Lobay, Taryn Hallett, Erin Anderson, MacKenzie Arnett, Jennifer Boudreau and Darcelle Heemeryck — will be stepping into motherhood before next June. All plan to have their babies at the Royal Alex.
Three have given birth, while 11 more await bundles of joy at Lois Hole
Story & photo by Vanessa Gomez
EDMONTON — Baby fever, the good kind felt by happy moms-to-be, has hit an all-time high at the Lois Hole Hospital for Women.
Fourteen nurses on the Labour and Delivery unit are taking the leap into motherhood and the unit has been buzzing with excitement.
"There were 14 of us pregnant at the same time, which I think is a record for this unit," says Pascale Hayne-Hamann, whose little boy, Elliott, arrived in December.
The unit, with about 120 nurses, has been preparing well in advance for their baby boom, and already has coverage in place for the maternity leaves coming up.
"We have a young unit and once all the weddings happened, we anticipated babies might be next," says Sharla Gardiner, Unit Manager for Labour and Delivery. "This past summer, we hired 10 staff, who are fully trained and ready to move in to cover full-time, maternity-leave positions."
Three nurses have already given birth, while the others are preparing for their bundles of joy, due from now until June. Eleven will be first-time moms, and admit to feeling both nervous and excited at the same time.
All of these workmates have bonded through their shared pregnancy experience by participating in prenatal yoga and fitness classes — and even creating a group chat where they can talk to alleviate any concerns or fears and share maternal tips.
"It's been great having people to talk to when little things come up," says Erin Anderson, who's due in April. "We can talk about anything, which is really nice."
Working on the Labour and Delivery unit has provided more than a glimpse of what these soon-to-be mums can expect, with a few nerve-wracking moments. But all 14 nurses say with confidence they know they, like their patients, will be receiving excellent care from their colleagues.
"It's really reassuring to know our staff and doctors beforehand," says Taryn Hallet, who's due in March. "We know we're going to get the very best of care."
The experience has also allowed these new mothers to step into the shoes of their patients.
"I knew what to expect coming into the hospital, but it's completely different being on the patient side of things," says Hayne-Hamann.
"It's definitely going to make me a better nurse because I'll be able to better understand what my patients are going through."