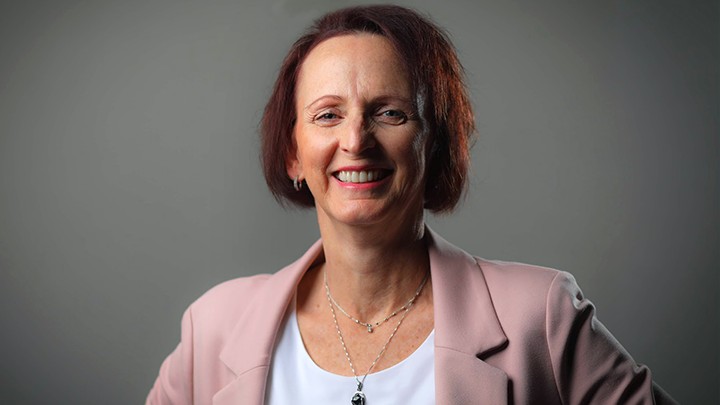 Lorna Ash, director of development for the Northern Lights Health Foundation, is a 20-year resident of Fort McMurray and volunteered with Northern Lights Health Foundation for several years prior assuming her current role in 2016.
Meet Lorna Ash, director of development for Northern Lights Health Foundation
Story by Amelia Schofield | Photo by Leah Hennel
FORT McMURRAY — Alberta Health Services recognizes May as Health Philanthropy Month. Throughout the month, we'll be celebrating the foundations and auxiliaries who raise funds for healthcare across the province.
The Faces of the Foundations profile series will introduce you to the individuals who lead healthcare philanthropy across Alberta. This week, we're pleased to profile Lorna Ash, director of development with Northern Lights Health Foundation in the Regional Municipality of Wood Buffalo.
Why did you get involved with the Northern Lights Health Foundation?
As far back as I can remember, I have always volunteered. When I moved to Fort McMurray 20 years ago, it was no different. I first got involved with the health foundation as part of their Festival of Trees committee and stayed involved. I believe that things happen for a reason, and the opportunity to work with them arose at the right time.
Why is healthcare philanthropy important to you?
Healthcare has always been important to me; it impacts all of us directly many times throughout our lives.
I remember the old saying that 'giving is a selfish act because it makes us feel so good'. I have always preferred giving over receiving and one of the best parts of working in philanthropy is that we get to receive on behalf of those that benefit from the generosity and kindness of others.
I love being a part of an amazing organization that is making such an incredible difference to so many.
Tell me about some of the foundation's recent accomplishments.
There have been so many, but at this time I'd have to mention the palliative care suites at the Northern Lights Regional Health Centre. The Jeremy Snook Memorial Palliative Care Suites were part of the foundation's $16-million Gratitude Campaign and are so important to so many in our community.
We were supposed to be doing the grand opening ribbon-cutting celebration this month which, of course, won't happen due to COVID-19. We know how important this project is to the Snook family, the donors and the community — and we'll keep everyone in our hearts until we can celebrate the completion together.
How can Albertans support the foundation?
Like most, we are currently focused on funding for the COVID-19 response. For more information on the foundation and how to donate, we encourage people to visit northernlightshealthfoundation.ca.