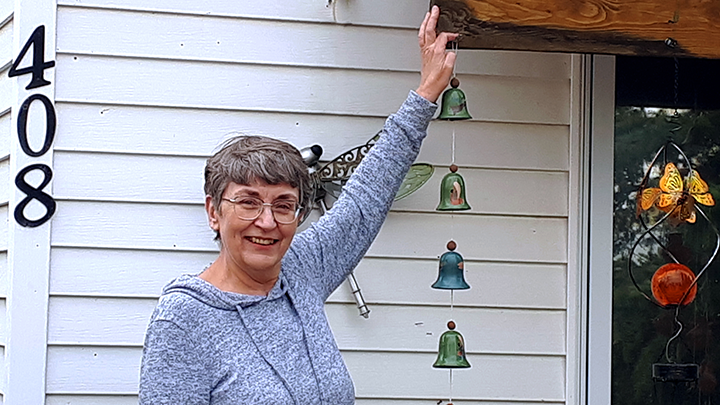 Research study participant Michelle Archibald hangs some homemade wind chimes while enjoying full range of motion in her left arm after recovering from elbow surgery.
Medication used for asthma may improve recoveries
Story by Greg Harris
In the early phase of her recovery from elbow surgery, Michelle Archibald followed the advice she was given to promote healing by staying active.
"About three weeks after I got the bandages off, I decided to make bread," says the 66-year-old, who lives northwest of Drumheller. "And luckily, my husband was home at the time. My elbow got very, very tired and he had to finish the physical part of it."
Now, several weeks later, Archibald is enjoying a near-full recovery, something she attributes in part to the clinical trial she's participating in that's testing whether an asthma medication (Ketotifen) can prevent stiffness and loss of motion for patients who've had elbow surgery.
Dr. Kevin Hildebrand, Calgary orthopedic surgeon and principal investigator for the multi-centre clinical trial, has been interested in Ketotifen for years and believes it may hold promise for healing elbow injuries that have been surgically repaired.
He began testing it in patients in a 2013 clinical trial after studies in animals showed it could be effective. His latest research is part of a large North American trial.
"Based on the results of the study that wrapped up in 2016, we have refined our recruitment to focus just on patients with the really severe elbow injuries, in other words the ones who have required surgical repairs. Our theory is that those patients might benefit the most from Ketotifen," Dr. Hildebrand says.
Archibald slipped on some ice in early March after dropping her granddaughter at school and wound up breaking her elbow and wrist — both of which required surgery. She was approached by the research team at Peter Lougheed Centre and invited to join the study, which she agreed to after being assured of Ketotifen's safety.
A joint contracture is the term for the debilitating types of stiffness that can result after an injury or surgery. Contractures can severely restrict a person's range of motion and negatively impact their quality of life. In some cases, contractures themselves require surgery.
In the latest clinical trial, researchers will recruit 700 participants from 17 different sites in the United States and Canada, including Foothills Medical Centre, Peter Lougheed Centre and South Health Campus in Calgary, and the Sturgeon Community Hospital in St. Albert, near Edmonton. Like many of the hundreds of other clinical trials initiated in Alberta every year, the Ketotifen study is a double-blinded, randomized clinical trial (RCT), which means that neither Archibald nor the researchers know whether she has received the medication being tested, or a placebo.
"The RCT is the gold standard for research," Dr. Hildebrand notes. "By the nature of its design, it's trying to show what the impact of whatever the intervention is — in this case, Ketotifen."
Currently, there are approximately 1,100 active clinical trials within AHS. Clinical trials are a critical part of the healthcare system, giving clinicians the evidence they need to make decisions around care.
"We're grateful for people like Michelle who participate in studies like these," says Dr. Hildebrand. "Whether or not they benefit from the medication being investigated, they are still making an important contribution toward our understanding, which may help patients who come after them."
Given her good recovery, Archibald suspects she received Ketotifen in the trial, and not a placebo.
"My husband has lived an adventurous life and has broken quite a few bones," she says. "Based on his experience, he is absolutely blown away by how quickly I recovered. Now, I'm back to baking bread all on my own."
For more information on participating in research studies in Alberta, visit bethecure.ca, ahs.ca/participateresearch or albertacancerclinicaltrials.ca.