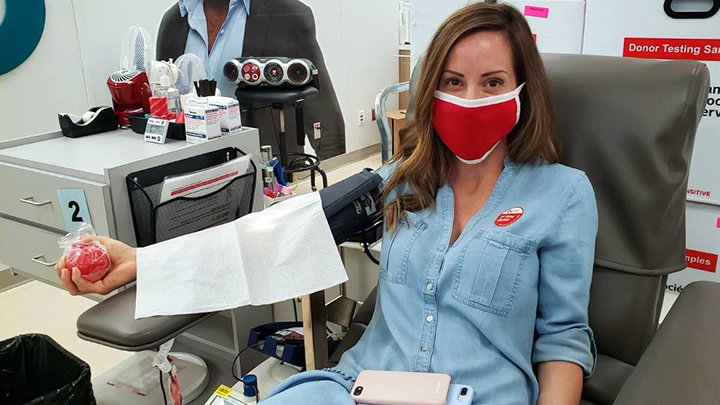 Stollery nurse Dena Chuckrey dons a face mask to donate blood for the first time. Chuckrey organized a group donation with her nursing colleagues in response to the blood shortage during the COVID-19 pandemic. Blood and blood products are integral to patients involved in major surgeries, medical procedures, cancer treatments and managing diseases and disorders. Photo courtesty of Dena Chuckrey.
Stollery nurses band together to support Canadian Blood Services
Story by Vanessa Gomez
An urgent need for blood donors across the country has arisen during the ongoing COVID-19 pandemic — but a nurse at Stollery Children's Hospital and her workmates have stepped up to give the gift of life.
Dena Chuckrey, a registered nurse at the Stollery Children's Hospital, received an email about the urgent need for blood donations and wanted to do something to help. As a former Emergency Department nurse, she knows firsthand how vital blood is for patients.
"When COVID-19 hit and restrictions were put into place, we saw a lot of appointment cancellations and a drop in blood donations," says Sharon Willey, Territory Manager of Donor Relations at Canadian Blood Services.
The need for blood is rising fast as hospitals resume procedures that were put on hold due to COVID-19. Meanwhile, physical distancing in donor centres has put new constraints on how much blood can be collected.
In response, Chuckrey brought up the idea of a group donation with her colleagues on unit 4C (Pediatric Cardiology and Gastrointestinal Services) — and it was warmly received.
"The response was incredible," says Chuckrey. "Staff on the unit are so kind and caring and want to do so much to help. Hearing them talk about it on the unit is so heartwarming. Blood is so important for our patients in order for them to receive the surgeries they require."
A group made their first donation on May 20, with more groups planning to donate and more staff becoming increasingly interested in the initiative. Many staff, including Chuckrey, are first-time donors who have bonded over their experience.
Blood and blood products are an important part of healthcare when it comes to major surgeries, medical procedures, cancer treatments and managing diseases and disorders.
Donating is an easy process, even during COVID. It begins by visiting Canadian Blood Services to see if you are eligible to give — and then booking your appointment online. The process, from check-in to donation to after-care, takes about one hour.
Enhanced measures are in place to mitigate the risk of COVID-19. Donations are by appointment only to limit the amount of people inside the building. Donors are greeted by an employee to answer pre-screening questions to determine if they are well enough to enter. At a wellness checkpoint, donors will submit to a temperature check and once inside the building, they will be asked to sanitize their hands. Enhanced cleaning procedures are in place and masks are mandatory for all staff, volunteers and donors. Donors are placed two metres apart while in the waiting room and while donating.
For 14-year old Hosanna Crowell, the generosity of blood donors is literally a life-saver. Hosanna has Beta Thalassemia Major, an inherited blood disorder which causes extreme anemia and a lack of oxygen in the blood. She's been coming to the Stollery for transfusions for more than 10 years and has received 269 transfusions to date.
"We know what she's like when she needs blood," says mother, Cathy Crowell. "She doesn't have the energy, but after her transfusion, she's ready to go."
Donating for the first time can be a little scary, but the gift it gives to patients in need is worth it.
"All it takes is that first step towards donation and giving an hour of your time," says Crowell. "Your blood doesn't just sit in a bag. It really helps save lives and Hosanna is proof of that."