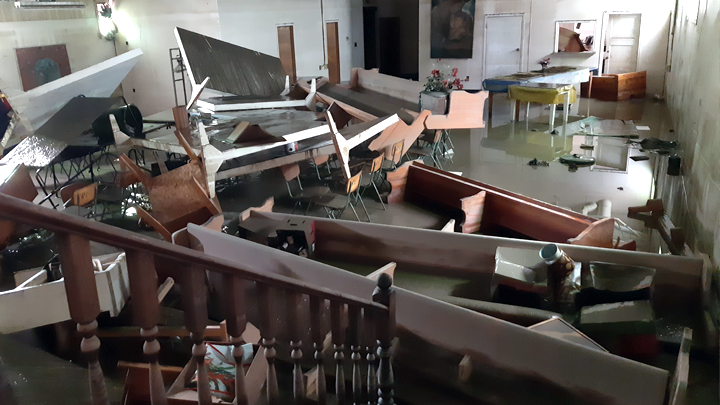 Krista Park, an AHS Peace River Public Health Inspector, captured this photo while on deployment to Fort Vermilion in response to spring flooding.
Giving guidance on pandemic and flooding all in a day's work
Story by Logan Clow | Photo by Krista Park
Environmental Public Health (EPH) teams continue to respond to COVID-19 and flood recovery in the North Zone.
As they provide COVID-19 guidance and information to municipalities and conduct building inspections for flood-affected businesses, Alberta Health Services (AHS) EPH teams are supporting North Zone residents.
"Our staff have gone above and beyond to respond to the COVID-19 pandemic and the late April flooding in Fort Vermilion and Fort McMurray," says Ashley Yu, Manager, EPH North Zone – Northwest. "They have been working closely with businesses, community partners and residents to ensure they have the information and guidance that they need."
Megan Bourassa, Manager, EPH North Zone – Northeast, adds: "Our staff have worked so hard across the North Zone. It's a testament to their dedication to protecting public health."
Providing COVID-related guidance and information has become a significant focus for EPH since the pandemic was declared. EPH staff — who are trained to respond to a pandemic — work with businesses, public facilities and municipalities. Their work includes site visits to review operations and processes as well as business continuity plans as they give guidance with regards to measures that need to be taken to minimize transmission.
"The people to whom we've provided guidance are varied," says Bourassa. "We've provided guidance regarding the re-opening of community drive-in movie events, and even worked with school boards on the different ways they can celebrate and recognize their graduating students.
"For businesses who were allowed to remain open during COVID, or are in the midst of re-opening, we've been closely working with them to ensure they have the appropriate measures and processes in place — such as enhanced cleaning, physical distancing and safe food handling."
Another aspect of the team's work is responding to COVID-19-related complaints. Provincially, Yu says EPH receives about 100 COVID-specific complaints each day. Once a complaint is received, a Public Health Inspector follows up.
"Some complaints are in regards to physical distancing measures not being followed, or a gathering in progress that does not follow the restrictions on gatherings," says Bourassa.
"Other complaints are related to businesses staying open when they should have been closed — which violates provincial public health orders — or individuals not following isolation or quarantine requirements."
EPH inspectors have also been staffing the COVID-19 Coordinated Response Line for Congregate Living Setting Operators (1-844-343-0971) and sharing outbreak guidance and information, as needed.
"Our teams have done a great job in ensuring businesses, public facilities and community partners have the most current and accurate information to protect the health of Albertans. Our staff excel in adapting to, interpreting and communicating changes in information."
Yu and Bourassa also credit their teams for providing ongoing EPH flood support in Fort Vermilion and Fort McMurray. (While Yu's teams have been supporting Fort Vermilion, Bourassa's teams have been supporting Fort McMurray.)
EPH teams in both communities provided a boil water advisory and flood-related guidance and information where needed.
Krista Park, a Public Health Inspector from Peace River, travelled to Fort Vermilion to help with a number of needs, including building inspections.
Fort McMurray's downtown EPH office was directly impacted by flooding; its staff have been working from home and out in the community.
"When more than 10,000 Fort McMurray residents were evacuated from their homes due to flooding and were given shelter in local work camps and hotels, we also deployed EPH staff to those locations to ensure physical distancing and appropriate measures were being followed to minimize any potential COVID-19 transmission."
Northern Alberta is no stranger to natural disasters such as wildfires and floods — and Yu and Bourassa note EPH teams are trained and ready to respond 24/7.
Says Yu: "Across the zone, EPH continues to work with our residents, municipalities, community partners and businesses. Whether it's a fire, flood or COVID-19, we're here to help and protect the health of residents."