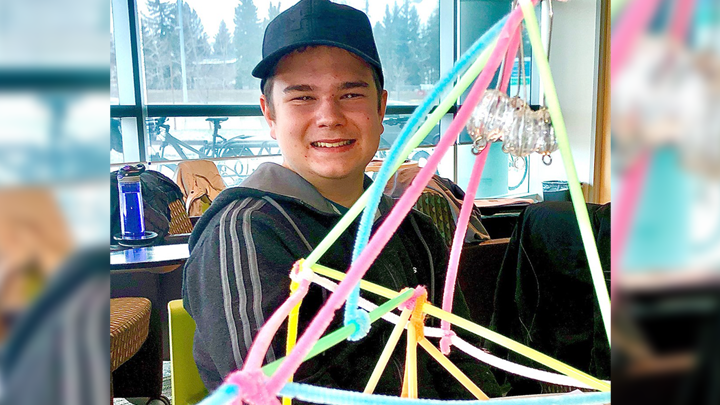 Ethan Foster serves on the lived experience advisory committee which went through the initial pilot of a new workshop, Caring for Youth in Emotional Crisis in the Emergency Department. Photo: Supplied
New workshop offers fresh insight for emergency department staff
Story by Diana Rinne
A project that began with a survey to assess the experiences of children, youth and families in the emergency department three years ago is today having an impact on the front lines, thanks to a partnership between the Emergency and Addiction and Mental Health Strategic Clinical Networks (SCNs).
"Honestly, it seriously was one of the best courses I have ever taken," says Kate Farkouh, quality improvement coordinator for critical care at Northern Lights Regional Health Centre (NLRHC) in Fort McMurray. "The whole purpose of it really resonated."
The workshop, Caring for Youth in Emotional Crisis in the Emergency Department, was first presented at NLRHC in January this year as one of six pilots across the province. The workshop was developed in response to a 2017 survey of more than 1,500 people about the experiences of children, youth and families in the emergency department (ED).
"One theme which permeated through the responses was people not feeling sufficiently supported in the emergency department — feeling that they were being stigmatized or blamed for being in an emotional crisis," says Daniel Grigat, senior consultant with the Addiction and Mental Health SCN.
The Emergency and Addiction and Mental Health (AMH) partnership worked to build a curriculum that would provide additional training for emergency department staff — with a focus on giving compassionate and trauma-informed care for youth in crisis in the ED.
"The curriculum was extremely well-vetted," adds Grigat, "as it came from the Alberta Family Wellness Initiative, a project that really brings together the best science and evidence about what the causes are of mental health and addiction concerns, whether in adolescents or in adults.
"That Alberta Family Wellness project was trying to shift the narrative from saying this is some sort of a moral failing to understanding that no, this is a brain disease and we understand the causes of this disease really well. As well as to combat a lot of negative perception people have around things like stress."
Patient advisor Kelly McLean, who took part in the original survey, was contacted to be part of the Lived Experience Committee which went through the initial pilot of the workshop in Calgary last November.
"They did an excellent job of putting together a well-rounded workshop," she says. "By the time they had us at the hospital in Calgary doing a mock workup, as if we were taking the workshop, they really had it figured out. It was really well put together."
Having previously visited an ED as a youth in emotional crisis, McLean says that had this kind of training been available back then, she may had a more positive experience.
"Overall I think one of the biggest takeaways from the project was reminding nurses to be empathetic; which is such a simple thing but sometimes can be forgotten because of the pressures nurses are under and the expectations on them about all the things they have to deal with," she says.
"Reminding them that people who come into the ED in crisis is just as much, in many cases, a life and death scenario as someone who is bleeding," she says.
Licensed Practical Nurse (LPN) orthopedics tech Dieda John, who works in the ED at NLRHC, agrees.
"It was really impactful for me in that it showed a different way of looking at mental health," she says. "When you're in a busy ED, sometimes you're just trying to mitigate the behaviour. I feel sometimes it's just about the listening part of it. Sometimes they are coming in because they know it's a safe place and they just want you to listen or give them that warm blanket or some sort of comfort measure … someone just to listen to them."
Farkouh says the workshop taught her how to take a softer and more patient approach to mental health and addiction clients and their families, both youth and adults.
Says Grigat: "One of the most profound things for me in reading the evaluations from the nurses who have taken the training is that they have realized even though they can't resolve an underlying mental health or addiction issue, what they can do is manage this acute emotional crisis."
To date, four of the six pilot workshops have taken place, with the two remaining now on hold due to the COVID-19 pandemic.
"Evaluation has been ongoing since the start of the project," says Grigat. "It's really important that we go back to these nurses three months later and see if they are able to do the things they learned and maintain that practice. Ultimately, we will finish all six pilots and use that data to inform a plan going forward."