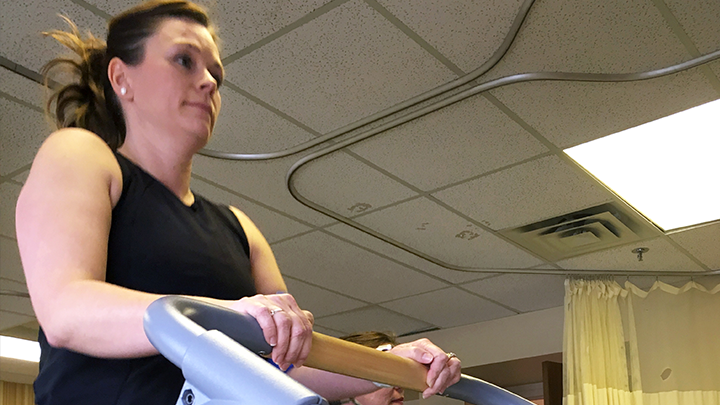 Karlin Lawrence, operational planner for the new Grande Prairie Hospital Project, is one of 27 QEII staff who took the cardiac fitness test known as the Beat the Bruce Challenge. It involves walking or running on a specialized treadmill for various intervals as a cardiology tech monitors heart activity. (Lawrence is shown here prior to the pandemic and physical distancing.)
QEII staff hop on treadmill to raise $9,100 for hospital
Story & photo by Sara Blake
GRANDE PRAIRIE — Testing their cardiac fitness for fun and a great cause is all in a day's work for staff at the QEII Hospital when it comes to the Beat the Bruce challenge.
The Cardiology Department hosted this fundraising event for the third time earlier this year as part of Heart and Stroke month and in conjunction with Cardiology Technologist Day.
Erin Armstrong, a Registered Cardiology Technologist, helped to organize the first event in 2015 and has kept herself involved ever since.
"There are various protocols in the stress lab and they're all named after the scientist who created them," she says. "The Bruce protocol is the main one that we use."
The Bruce protocol treadmill test — first designed by cardiologist Robert A. Bruce in 1963 as a non-invasive test to assess patients with suspected heart disease — is used for estimating the overall fitness of endurance athletes. In a clinical setting, the Bruce treadmill test protocol is sometimes called a stress test or exercise tolerance test. Linked to aerobic endurance, it can also be used to estimate oxygen uptake, a measure of a person's capacity to perform sustained exercise.
At the QEII, the test involves walking or running on a specialized treadmill for different intervals, while a cardiology tech monitors heart activity.
"Each stage is three minutes long," says Armstrong. "The treadmill will incline two per cent more at each stage — and it'll speed up at each stage.
"If the heart is not getting the blood flow it's demanding when you're exercising or when it's stressed, we can see changes on an electrocardiogram (ECG), or a patient may have symptoms like chest pain or light headedness. It helps us to diagnose all kinds of heart disease right there on the treadmill."
While it's not actually possible to 'beat' the Bruce protocol, those with Top 10 scores get a 'Beat the Bruce' T-shirt to salute their efforts. This year, 27 participants took to the treadmill.
"We got the email about the challenge and someone I work with asked if we should do it," says Puneet Minhas, a supervisor in Diagnostic Imaging at the QEII, who tried to Beat the Bruce for her first time this year.
"We asked others in our department and there were four of us altogether (who took part). I didn't know if I could do more than four minutes, but I guess I did 13, so I'm pretty proud of myself," she adds.
The event also raised funds through the Grande Prairie Regional Hospital Foundation for a bike ergometer that's geared towards patients who aren't able to use a treadmill.
"Currently, these patients are given a chemical stress test," says Armstrong. "With the bike, we can avoid the chemical stress test and do what's better for you — the exercise."
More than $4,500 was raised through pledges, a 50/50 draw and a silent auction. Internal Medicine Physicians matched that amount, boosting the total to more than $9,100 for the new bike and additional monitors.
Sandra Beida, manager of the QEII's Intensive Care, Respiratory/EEG and Cardiology departments, says the fitness test gives participants a fresh perspective into the services provided by cardiology staff as well as the patients they treat.
"The Beat the Bruce challenge gives staff from other areas of the hospital the opportunity to see firsthand what cardiology techs do, through a nice healthy, team-building challenge between colleagues," says Beida.
Armstrong adds: "Some compete against themselves, some compete as teams. Everyone is cheering each other on and seeing who can do the best. It's a lot of fun."
Minhas says she'll likely be back for the next Beat the Bruce challenge.
"I'll try it again — and maybe next time I'll beat my 13 minutes."