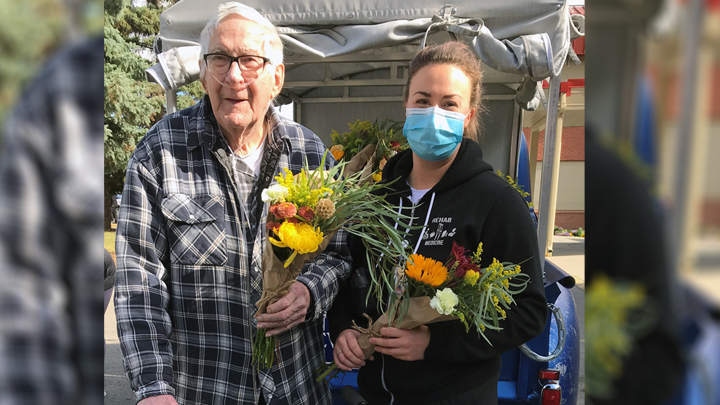 Mackenzie Place resident Cliff Sydbo chose a bouquet for himself and another for his wife from the Gypsy Blooms Flower Truck with the help of rehab therapist Drew Finnson in Grande Prairie. DRL Mechanical sponsored the flower truck's visit to the long-term care facility to provide bouquets for all of the residents, while Maxwell Mariano of Lyons Production sponsored vases for each resident's bouquet.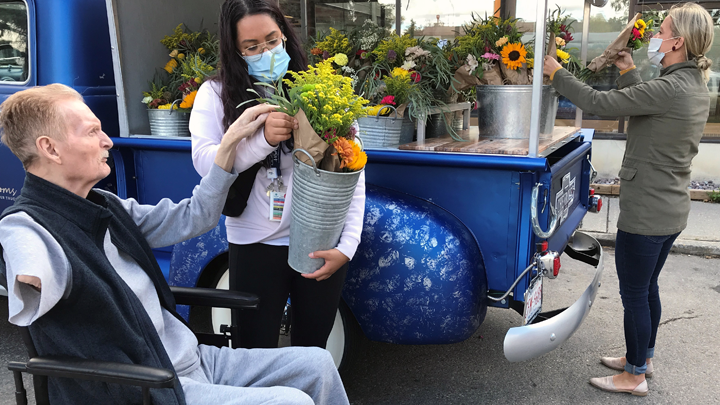 Mackenzie Place resident Darwin Tost gets some assistance from recreation therapist Gina Mariano in choosing a bouquet from Joline Willsey's Gypsy Blooms Flower Truck in Grande Prairie.
Grande Prairie merchants show the love to local seniors
Story & photos by Diana Rinne
Flowers and faces were blooming at the Mackenzie Place long term care facility recently as residents were treated to the chance to pick out their own bouquet from Gypsy Blooms Flower Truck.
The vintage 1949 Chevy, loaded with blooms, parked out front of the facility on Sept. 21 with flowers for all residents courtesy of local sponsor DRL Mechanical. Inside, vases sponsored by Maxwell Mariano of Lyons Productions were ready for each resident's bouquet.
Mackenzie Place recreation therapist Gina Mariano says the residents were very excited when they heard the news of the flower delivery. "They can't wait to come out and pick their own flowers and take them back to their rooms."
Staff worked to bring small groups of three or four residents outside at a time, helped them pick a bouquet from the back of the truck, and then chose a vase and set them up in their rooms.
"It's lovely," resident Darwin Tost said with a smile after choosing his bouquet. "It's nice to be outside in the sunshine and see all the flowers. And you don't see trucks like this too often anymore."
"It's just heartwarming every time I do this," added Joline Willsey, owner of Gypsy Blooms Flower Truck.
The Mackenzie Place stop was the fifth time a different local company had reached out to Willsey to sponsor a flower delivery to local seniors' facilities.
"It brings a tear to my eye every single time."