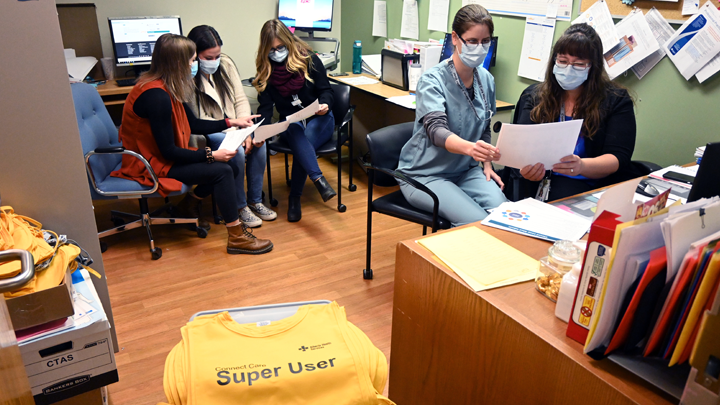 Super users at Leduc Community Hospital prepare for the Wave 2 launch of Connect Care. Super users receive extra training on the Connect Care system so they can provide support to their colleagues in the early days after a launch.
Wave 2 welcomes more than 6,000 staff and physicians across Edmonton Zone
Story by Suzy Thompson | Photo by Francis Silvaggio
Connect Care is a revolutionary change in how Alberta Health Services (AHS) delivers care — and its second wave launched at 5 a.m. on Oct. 24.
Staff working in nine Edmonton Zone launch sites and the Connect Care project worked for months — and, in some cases, years — to prepare for the second stage of this mammoth undertaking.
"It's been a long year and, once again, Alberta Health Services has shown what they're made of," AHS President and CEO Dr. Verna Yiu said during the launch countdown address to staff in the final minutes before system implementation.
"The fact that we're actually able to launch Wave 2 of Connect Care at all in 2020 is truly a testament to your resilience, not to mention your passion, your dedication, your talent, your expertise."
In late 2019, the first wave of Connect Care successfully launched at the Walter C. Mackenzie Campus and other sites across Edmonton Zone.
Since then, many changes within Connect Care based on lessons learned and the new healthcare landscape presented by the COVID-19 pandemic have led to a much different launch undertaking.
Despite undeniable pressure, leadership at Sturgeon Community Hospital in St. Albert, one of Wave 2's nine sites, say staff were excited to go live.
"I think for the frontline staff, just talking to them as we rounded after the switch was flipped, they're very excited and happy to see that they could actually get into the system," says Wendy Tanaka-Collins, site director of Sturgeon Community Hospital in St. Albert. "I think all of the training and preparation they were doing, and the playtime environment they were in, has really paid off."
Sturgeon Medical Director Dr. David Sheps agrees. "A lot of really hard work was done in the weeks leading up and particularly the last couple of days," he says. "The integrated operation centre worked really hard to get us into a good place and I think that's been good and I feel like we're going to be in good place.
"People are feeling pretty comfortable. I don't think any of the staff this morning expressed any concern or reticence about going forward."
Highlights of this launch include significantly more virtual and remote support for end-users, with constant attention on continuing to provide safe, high-quality care to patients. A bright spot is the birth of the first baby using Connect Care's Stork application. Baby Kiera was born to Ana and Viorel Hrincu only three hours after launch at the Sturgeon.
"The Zone has been managing multiple priorities and has experienced incredible pressure over the past two weeks," says Carol Anderson, Chief Zone Officer, Edmonton Zone.
"As always, the (Edmonton Zone) teams have risen to meet challenges while keeping the focus on our patients, clients, residents and families. Implementing Connect Care is a major undertaking under normal circumstances and this is magnified during the pandemic. I am humbled and inspired by the collaboration, determination and confidence the Wave 2 sites and the other zone sites and programs have shown during the launch."
Wave 2 includes acute care, long-term care, hospice, post-acute units and the related suburban pharmacies, diagnostic imaging and Alberta Precision Laboratory sites.
In addition to approximately 4,875 staff, and 1,100 physicians, nurse practitioners, physician assistants, and dentists, the following hospitals, sites and programs are part of the Wave 2 launch:
Devon General Hospital
Fort Saskatchewan Community Hospital
Leduc Community Hospital
Redwater Health Centre (lab only)
Strathcona Community Hospital (Sherwood Park)
Sturgeon Community Hospital (St. Albert)
WestView Health Centre (Stony Plain)
North East Community Health Centre (Edmonton)
Continuing Care Access
Palliative Community Consult Team
Northern Alberta Renal Program
"Our patients have been our focus every step of the way. Connect Care will transform how patient information flows between patients and their healthcare providers, eventually creating a central access point for current and accurate patient information across AHS," says Dr. Francois Belanger, Medical Director, AHS.
Wave 1 saw Connect Care implemented at the Walter C. Mackenzie Campus, East Edmonton Health Centre, pharmacy and diagnostic imaging sites in the Edmonton Zone, Alberta Precision Labs sites in Edmonton and the North Zone, DynaLIFE sites across Alberta, labs at the Cross Cancer Institute, and hundreds of ambulatory clinics in the Edmonton Zone.
Altogether, including Wave 1, there are now 27,000 staff, physicians and prescribers using Connect Care every day in their work.
The full Connect Care launch will see nine implementation waves in total, continuing into 2023.