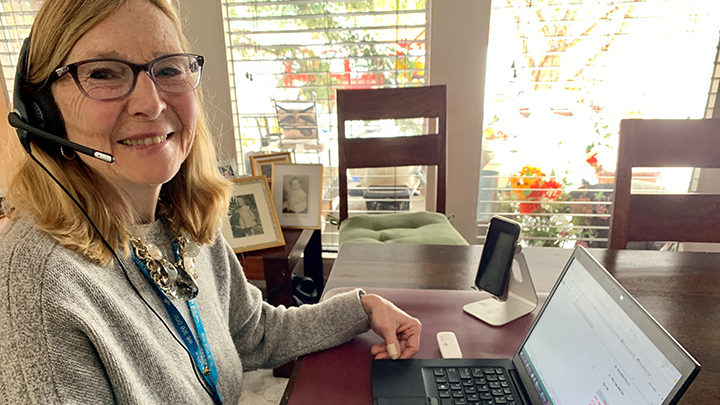 Marie Webb, a clinical nurse specialist with the Rural Palliative Care Consult Team, connects with her clients via videoconferencing.
More family members encouraged to participate in virtual visits
Story by Sarah Kerluke | Photo courtesy of Marie Webb
Making the most of virtual appointments has never been more important to healthcare providers and patients than it's become during the ongoing COVID-19 pandemic.
In fact, its importance is reflected in the theme of this year's Canadian Patient Safety Week — Virtual Care is New to Us — with the proud support and participation of Alberta Health Services (AHS).
Patient safety is more important than ever, and along with the Canadian Patient Safety Institute (CPSI), AHS is making progress to emphasize the presence of safety with in-person healthcare and through virtual healthcare delivery.
While patients and families can continue to see their healthcare providers and receive care, AHS continues to expand its use of virtual care to support and accompany in-person visits.
"The increase in access to care for patients and families through virtual health is exciting," says Shy Amlani, provincial director of virtual health. "It truly is delivering quality virtual care — anytime, anywhere."
Providing and receiving healthcare through virtual means — remotely via videoconferencing technology — is not new. Its use, however, has been accelerated over the past several months due to the COVID-19 pandemic.
Delivering healthcare virtually aims to maximize the quality and effectiveness of patient care, while ensuring safety is held to the highest standards through a collaborative effort between patients, families and their healthcare providers.
AHS has expanded access to healthcare services across the province through the addition of virtual tools to better meet the care needs of patients — including Zoom technology, assessing clinical priority for ambulatory care (also known as outpatient care visits) and developing self-help tools, guided webinars and advising some program areas on how best to integrate technology.
To make the most of virtual appointments, patients are encouraged to ask questions, and to bring an advocate with them to appointments, if they wish.
Marie Webb and Linda Read-Paul, clinical nurse specialists with the Rural Palliative Care Consult (PCC) Team, say being able to include more members of the patient's family and their healthcare team in the visit is one of the greatest benefits of virtual care.
"The real-time, whole team, patient-centred communication that's enabled by these virtual visits is incredibly effective and efficient," says Webb. "Using virtual tools provides patients' families more flexibility to attend visits with their loved ones and enhanced opportunities to be engaged in the care and decision-making process."
Thanks to its expanded use of technology, their PCC team conducted 139 clinical consultations between March and the end of July — compared to nine for all of 2019. The PCC service is just one example of the many ways in which virtual healthcare is being embraced across the province.
To learn more about Virtual Care is New to Us and Canadian Patient Safety Week, which runs Oct. 26 to 30, please visit AHS or the Canadian Patient Safety Institute.