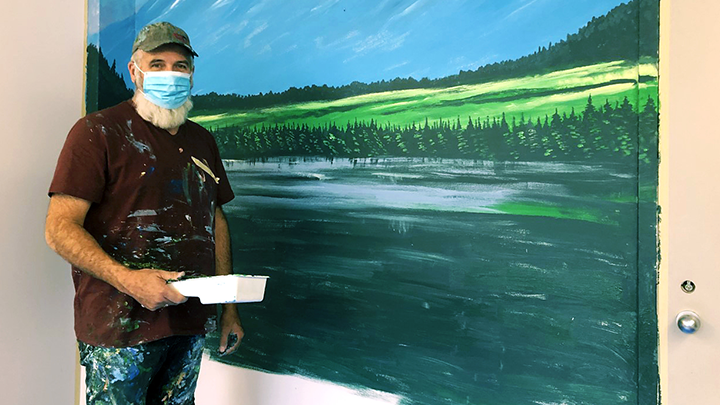 Robert Murray stands with one of his nature murals at Alberta Hospital Edmonton. The artist is painting 15 murals as part of the hospital's Ambition 2023 project. With the support of the Mental Health Foundation, the scenic murals aim to create a welcoming, bright and comforting environment for patients, staff and visitors.
Scenic mountains, waterfalls and wildlife featured in 15 new artworks
Story and photo by Vanessa Gomez
EDMONTON — As we head into the icy chill of Alberta's winter, Alberta Hospital Edmonton (AHE) will debut warm, welcoming splashes of colour across its site with 15 scenic nature murals.
The murals are part of a five-year renewal plan called Ambition 2023 which reflects the desire of Alberta Health Services (AHS) to adapt and innovate to better meet the ever-changing and complex needs of individuals and families.
Part of Ambition 2023 is the proposal — AHE & Henwood Refresh Through Art — put forward by the site to revitalize its spaces and create a more welcoming environment for staff, patients and visitors. With the help of the Mental Health Foundation, the mural work is already underway, with artist Robert Murray engaged to paint all 15 scenes.
"Changing the spaces throughout the hospital really creates a sense of peace and brings serenity to patients and staff," says Gerrie Vaudan, therapy assistant, Recreation Programs at AHE. "People can look at a mural and pick out what's special to them."
The murals depict a range of subjects, from towering mountain peaks to calming rivers and lakes as well as wildlife such as moose, geese and squirrels.
"It's an escape from reality," says Vaudan. "Nature is so healing, and they're able to reminisce whenever they see these murals."
A former cartoonist, Robert Murray, has been painting for more than 16 years. He got his start in murals when he painted the walls of a seniors' home where his mother resided.
"All my murals have the same theme behind them," says Murray. "I want people to feel inspired. I want people to feel good about where they are and maybe help them to reflect on some imagery of the past."
Planning for the murals began this past summer, where Murray took the time to chat with staff and patients about what they'd like to see in each mural. He heard requests for campfires, inspirational words and mountain vistas loud and clear. Work on the murals began in October and is expected to be complete by mid-November.
So far, staff and patients have been very receptive to the art popping up around them. Feedback has been positive.
"They really enjoy them," says Vaudan. "It's a bit of positivity they can grab onto and resonate with."
For Murray, being able to share his art and play a part in the facility's revitalization is a milestone in his career.
"My paintings are an emotional reflection of who I am and what I want to feel," he says.
"If I leave something behind that makes residents here feel good — that makes them feel at ease and find comfort in their lives — my mission is accomplished."