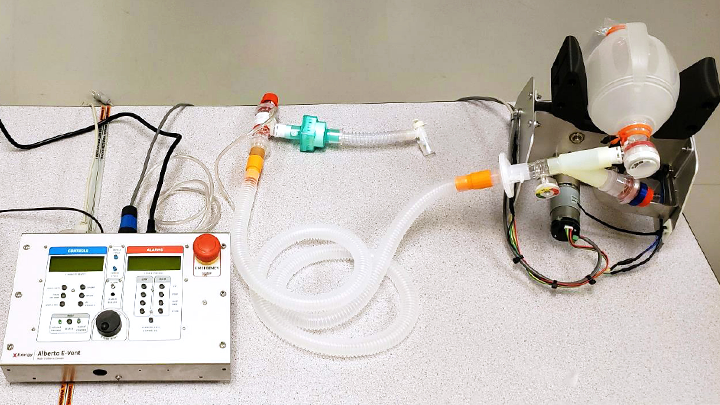 Tubing, a control panel, and "hands" to automatically squeeze an airbag, comprise the simple and compact Alberta E-Vent — an invention designed to help healthcare workers better care for patients in respiratory distress. Photo supplied.
Made-in-Alberta device a breath of life for rural emergency care
Story by Tracy Kennedy
A new life-saving device is ready to be deployed in the battle against COVID-19 thanks to the innovative teamwork of Alberta Health Services (AHS) along with corporate collaboration and generosity.
Physicians and staff at Provost Health Centre are trained, ready and waiting to use the Alberta E-Vent, a custom-made piece of equipment designed to automate the breathing of patients in respiratory distress. The ventilators, created in part through 3D printing technology, can provide short-term respiratory support, monitoring and treatment of adult patients for use if and when a conventional ventilator is unavailable.
Healthcare teams at rural sites such as Provost often don't have access to conventional ventilators. When they find themselves waiting for a ground or air ambulance to transport a patient to an Intensive Care Unit (ICU) at a larger site, they may need to manually squeeze an airbag every six seconds for several hours.
"Physically, bagging is very tiring. One person can't do it for a long time, so healthcare workers take turns," says Brant Poirier, area director for Central Zone – South.
"It's very taxing on a team. At some rural sites, if a patient comes in at night, there are limited healthcare staff available. This unit squeezes the airbag automatically — so there's no fatigue."
Leading up the E-Vent, an AHS interdisciplinary healthcare team collaborated to identify innovations to manually support bagging for extended periods of time at rural sites without ventilators. To respond to this need, Exergy Solutions — a Calgary-based engineering firm with a specialty in design, prototyping and fabricating — developed the E-Vent solution and donated 200 of the devices to AHS.
When Exergy first approached AHS with its idea, it led to the creation of a multidisciplinary group called the Ventilator Collaborative, which also brought together clinicians and industry representatives and involved a cross-provincial team of volunteers and collaborators.
Exergy's lab is located in the Life Sciences Innovation Hub, operated by Innovate Calgary. Teams from the University of Calgary, including the Advanced Technical Skills Simulation Laboratory and Schulich School of Engineering, offered support and resources for the mechanical design and testing of the project.
Many other companies played pivotal roles in the collaboration, including Logican Technologies, Catch Engineering, PLC Electronic Solutions from Vancouver, Global Power Technologies and Laser Equation.
Though not a true ventilator, the device may prove to be a great stopgap at rural sites, particularly with COVID-19 cases across the province.
Conventional ventilators are expensive for a small hospital, often costing upwards of $30,000. At some rural sites, foundations or auxiliaries raise funds to buy the machines for their local hospitals, while other sites simply go without and rely on manual bagging, or transport to larger sites.
For the last six years, Rena Sorensen, the professional practice lead for respiratory therapy in Central Zone, has guided rural sites through the purchase of conventional ventilators and their necessary training as part of a larger provincial rural ventilation project.
"Provost asked for our help," says Sorensen. "They had to manually ventilate an intubated COVID-positive patient awaiting transport for approximately four hours. So, now they have the E-Vent and Provost is trained and ready to use it as our pilot site."
The Provincial Respiratory Equipment Team, led by Provincial Respiratory Practice Director Roberta Dubois, worked to ensure the new device was cleared for patient use before its deployment to Provost.
"Because the device is new, it had to go through a series of checks with Health Canada," says Dubois. "Normally, this process would be lengthier, but there has been a focused effort to move projects such as this along due to the pandemic."
Sorensen assembled a team to work through a training guide to help anyone use the device on the fly — and put this process into place: The healthcare worker(s) assisting a patient will phone RAAPID, the call centre that coordinates patient transfers and provides access to a higher level of care, and ask to speak to a respiratory therapist (RT). The RT will then talk them through the set-up and use of the E-Vent.
After the pilot in Provost — and the healthcare team is satisfied the device has proven itself — additional devices will be sent to any other rural sites in the Central Zone that don't currently have access to a ventilator.
"This could be a life-sustaining device for rural ER sites," adds Poirier. "This is compact, simple and requires very little training. As the pandemic is with us for some time yet, we are grateful to have a tool like this in our toolkit."