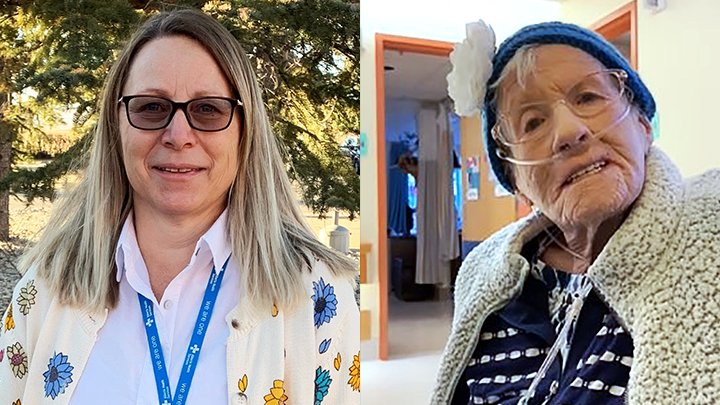 Priscilla McQueen, right, is often greeted with "Good morning, Sunshine" as her children, grandchildren and great-grandchildren join her for a virtual visit. Carmelle Steel, left, shifted gears from her volunteer coordinator duties last spring to organize and play host for the virtual-visitation program for Willow Creek's 100 residents. Photo supplied.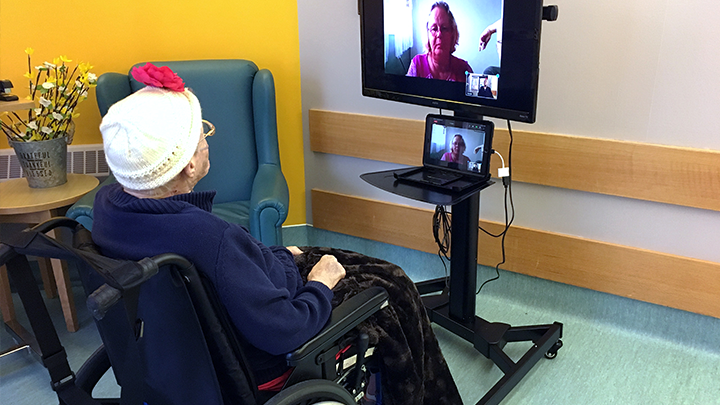 Priscilla McQueen enjoys a virtual visit with her daughter Sheila Bolduc at Willow Creek Continuing Care Centre. "I feel joy. It gives me a warm feeling," she says. Photo supplied.
Virtual visits keep families close and connected in Claresholm
Story by Gregory Kennedy
There's always something good to watch on TV at Willow Creek Continuing Care Centre — literally, the residents and their loved ones — thanks to a popular virtual-visitation program that's keeping families close this holiday season.
Carmelle Steel, coordinator of Volunteer Resources for Claresholm, Vulcan and Nanton, shifted gears at the outset of the pandemic to bring comfort and joy to the 100 seniors who call Willow Creek home.
On any given weekday, you'll find her wheeling a flat-screen television and tablet from room to room to play host for up to 14 visits a day, ensuring all residents who wish to reach out can enjoy several visits weekly with friends and kin.
"When visitation was first curtailed in March, we talked about how do we connect families and help everybody stay in touch," says Steel. "The following week, we had our virtual program in place. It started out strong and it's only picked up energy since then."
What began as an iPad on top of a wheeled table soon grew to two dedicated TV stands with large screens so residents could better see and hear their onscreen visitors, courtesy of $1,300 in funding from the Claresholm and District Health Foundation.
"It's very popular. I've called people across many time zones. In Colorado. In Australia. In Ottawa. It's really a wonderful connection back to family. I've done as many as 20 visits in a day," says Steel, who's fast coming up on 1,300 virtual calls since launching the initiative.
One beneficiary of the program is Priscilla McQueen, who's lived here since 2019.
When asked how much she enjoys seeing her family, she smiles, replies without hesitation: "One hundred per cent. I feel joy. It gives me a warm feeling"
The 88-year-old, affectionately called "Cilla" by her friends at Willow Creek, has abundant kin to keep tabs on — including five children, grandchildren and great-grandchildren.
Since virtual visits began in the spring, she's been up front and centre at birthdays, camping adventures and family milestones — and even got a glimpse at her grandbabies' Halloween costumes this year.
"These face-to-face talks mean the world to Mom and us," says Sheila Bolduc, her daughter in Calgary. "I do FaceTime with my Mom three times a week. I have a sister who sees her twice a week. And my brothers do it when they can. Mom also gets to see the crazy things her grandkids are up to in Fort McMurray."
Bolduc and her twin sister are the two designated family/support persons for McQueen when it comes to in-person visits, but with winter in full swing, the hour-and-a-half trip can be risky when roads are icy.
Getting to see her children and knowing their welfare is reassuring for McQueen.
"We show her what we're doing — and that we're OK," says Bolduc. "You know, seniors listen to the news with all this crap that's going on, and they're scared. With FaceTime, we can say, 'We're fine, Mom, we have food in the cupboard'."
Memory lane is a favourite stroll for mother and daughter during their virtual visits, which always begin with a 'Good morning, Sunshine!'
"She loves to reminisce about old times, and laugh about the silly things we did. We talk about our neighbours when we were growing up. We talk about the fun times when we used to go camping and fishing. Or about when my step-dad was alive. I hold pictures up to my iPad so she can see how her great-grandchildren are doing.
"One of her great-grandchildren — my granddaughter Zoe — is priceless. She's one of a kind. She just says what it is — and she and Mom just laugh and laugh at her stories."
Steel, herself, has become extended family for Willow Creek residents and their loved ones.
"It's been really interesting getting to know families better," she says. "I've been privileged to be a part of many things during our calls, from the birth of babies to a death in the family. We've kept them engaged with life, with all its ups and downs."
Bolduc says she appreciates Steel's devotion and dedication.
"Carmelle's wonderful. She's so accommodating. It's a wonderful program and I'm so glad they started it up. For some, it's the only way people can connect with their families. That's for sure."
McQueen adds: "It's just wonderful all the way around. And I know my family is just as happy about it as I am. (Our visits) have to be kept going. It's a great, wonderful thing and my kids love it."
"For long-term care, we should be doing this anyways," adds Steel, "and I'm sure we'll continue to do it when things get better.
"I feel I'm a part of Cilla's family now. She has five children and we talk to all of them, every week. It has really been an absolute honour to share in her life — and to get to know all of our residents better. That's a rare positive that has come out of this pandemic."