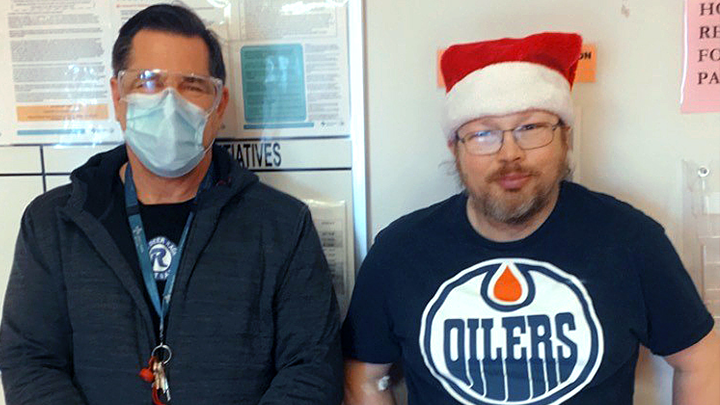 Alvin Cournoyer, right, a patient at Alberta Health Services' Centennial Centre for Mental Health and Brain Injury in Ponoka, is working with his aide Orion Donison so he can succeed in moving home and return to living a successful life. Photo supplied.
Centennial Centre patient well on his way to homecoming
Story by Tracy Kennedy
Gradual changes to a care plan have brought about dramatic progress for a patient at Alberta Health Services' Centennial Centre for Mental Health and Brain Injury (CCMHBI) in Ponoka.
Alvin Cournoyer is a longtime patient of the centre's adult inpatient program, which treats people with severe and continuing mental illness and supports their re-integration into the community. Once considered aggressive and requiring extra staff with him at all times, Cournoyer now is taking part in activities independently as he and staff have built a mutual trust.
"Things have been getting better. I handle my temper well," says Cournoyer, 50. "I learned to behave. I can go out in the courtyard and that feels good. I go for walks, and play bingo and do crosswords."
Cognitive issues and childhood trauma led to Cournoyer's admission to CCMHBI. He has been diagnosed with Lennox-Gastaut Syndrome — a type of epilepsy that usually goes hand-in-hand with developmental delays, difficulty processing information and behavioural challenges. It can occasionally lead people to act out aggressively, which requires some restrictions.
For the safety of staff and themselves, patients such as Cournoyer may be required to wear mitts, or restricted to the use of plastic utensils. However, when staff started to introduce changes to Cournoyer's care plan a little at a time, the outcomes were positive.
"Once we started to scale back restrictions, we noticed the patient started to flourish," says Geoff Parsons, unit manager of the adult inpatient program. "He started to engage with the staff more. His mood was much better. He's telling jokes, making friends, acting appropriately in whatever situation he's in. The change has been remarkable."
Orion Donison, a psychiatric aide, has worked closely with Cournoyer since March. He's been sure to incorporate Alvin's interests — including crib, basketball and Coca-Cola — as he fine-tunes the care plan.
"He's progressed so much," says Donison, who's been with AHS for 20 years. "We've worked together, and each time he had success, we gave him a little more independence — and now he's thriving."
As his responsibility grows, Cournoyer cleans off the tables after meals and dusts the ledges twice a day. He aims to get back to his hometown of Moose Jaw, where he hopes to find a job washing dishes in a restaurant.
As with all patients, Cournoyer's goals are to stabilize and relearn how to live as independently as possible.
Donison adds that no one is immune to a mental crisis. While people from all walks of life come to CCMHBI for various reasons, the healthcare goal remains the same —to help them return to living their lives as usual.
"For example, a father who's had issues, maybe because of a job loss or drugs, they learn that this isn't the end of the world," says Donison.
"You tell them their kids are still going to grow up, that life will go on, and that's not going to change — but they need to change. So we give them the tools to recognize their triggers and help them change."
These tools include expert physicians and staff, appropriate medication, behavioural and group therapies, proper nutrition and adequate sleep. Donison adds that whether a patient is in hospital for a couple of hours or a couple of months, physicians and staff build people up after they've reached their breaking point.
Cournoyer, for one, wants to take the next step. He says he's learned lots at the hospital, including how to be nice to people and how to help others. If his progress continues, he would like to live with his mom.
As he works hard to get there, he's looking forward to some of life's simple pleasures — things like buying cookies, gum, pop and movies with his own money. His first order of business, though, is to see his family.
"I want to buy my brother a pop and my mom and dad a cup of coffee."