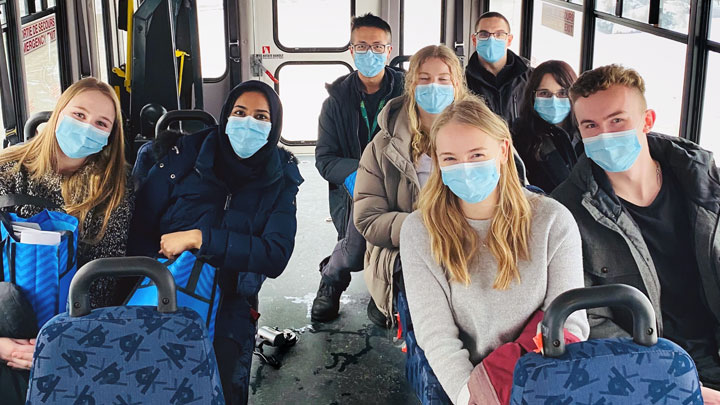 University of Calgary nursing students were treated to a local bus tour when they arrived in January for their practicums at the Northwest Health Centre in High Level and St. Theresa General Hospital in Fort Vermilion. Shown are: Rachael Gerdias and Hafsa Syed (left side of aisle); Paige Hutton and Zachary Eastman (front row on right side of aisle); Aleena Copithorne and Tegan Hills (middle row, right side) and High Level Allied Health physiotherapist Yufei (Steve) Cui and occupational therapist William Fitzgerald (rear row, right side). Photo supplied.
U of C cohort enjoy opportunity to gain rural experience in High Level, Fort Vermilion
Story by Diana Rinne
"Eye-opening" and "transformational" are just two of the ways University of Calgary nursing students are describing their experiences on their three-and-a-half month practicum at the Northwest Health Centre in High Level and the St. Theresa General Hospital in Fort Vermilion.
"I believe this has been the most transformational experience of my lifetime," says Hafsah Syed, one of the six students who arrived in High Level in mid-January. "I have always lived a sheltered, privileged life in the big city suburbs. Stepping outside of my comfort zone and experiencing a new life in Fort Vermilion has been an adventure and a breath of fresh air."
This unique project to send a cohort of students for a northern rural practicum was co-ordinated by Fadumo Robinson, Alberta Health Services (AHS) Associate Chief Nursing Officer, and Angie Mann, Director of Clinical Operations for Area 1 in the North Zone.
"The opportunity came up because we were working closely with the University of Calgary to discuss if they could extend their programming to have cohorts in some of the rural areas," says Robinson. "Specifically, we were looking at LPN to RN bridging. We wanted to offer the program locally, so people will stay. We have a 'grow our own' nursing committee with the U of C, and through that came the idea of having practicum students (go to rural areas)."
"Fadumo called me in December and asked if we would take U of C students, and I was 'yes, how many can I take?' adds Mann, herself a graduate of the U of C, who was also excited by the group concept.
"You have to remember the life of a student, right? It's one thing to support them in the workplace, but when they leave work and they're here for three-and-a-half months, away from their family and 12 hours from home. How do we support them on their days off? If they come as a group, this gives them a connection outside of work, and they have a family."
Mann organized housing for the six students, four of whom are working in High Level and two in Fort Vermilion.
Being part of a group has made the experience exceptional, says Syed. "It's made all the difference! Being in a group of students provides me a sense of comfort, security and belonging. High Level and Fort Vermilion embrace students with open arms — and I truly feel valued and loved."
Robinson says the concept of sending the students as a group to rural facilities is a viable process for a number of reasons. "One, we don't ever have all of the placements we need in the urban settings, and two, I think these students are getting the exposure of a lifetime,
"It's a different kind of nursing. It's a more holistic and well-rounded kind of nursing; they're getting the exposure they would simply not get in an urban setting."
Student Paige Hutton agrees. "I think it's made us all more comfortable working closely with lab and X-ray, physiotherapy, occupational therapy and physicians. There's also the unique situation where there are no specialty units for patients — so if we have someone come in with renal concerns, we take care of them on the acute floor, because there's no nephrology unit."
Mann says opportunity abounds for young healthcare workers in the North Zone. "I came up here for two months," she laughs. "Then I was going to go work on a cruise ship or something like that. But I just fell in love with the place and the opportunity it has to offer."
Twenty-seven years later, she hopes some of the students will consider following her path in rural nursing, noting that there are two new applicants for nursing positions from the group.
"I've already applied to stay here!" says Hutton. "The community has been so welcoming, and the staff has been very supportive when I have questions or need help, both on-shift and off-shift. I love getting to work to my full scope and getting to know my patients and colleagues."