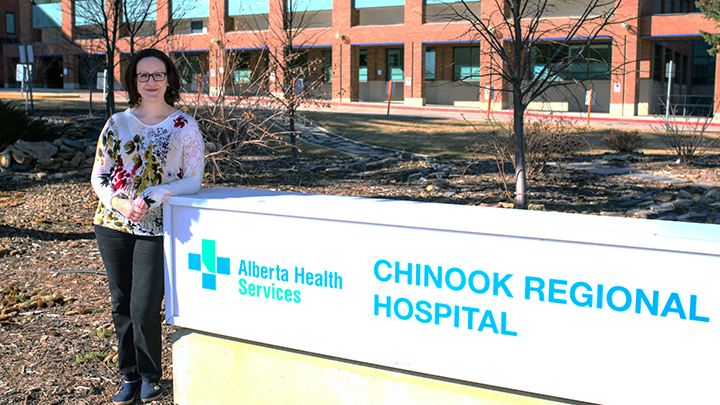 Risa Olsen and her team at the Lethbridge Occupational Therapy Clinic have trimmed their wait list, thanks to improvements they made under the Path to Care program.
Path to Care program helps optimize referral, wait-list and wait-time processes
Story by Greg Harris | Photo by Gabriel Thaine Photography
Patients here who need non-urgent occupational therapy are being seen faster than ever, thanks to access improvements brought about by the Path to Care program.
The wait list at the Lethbridge Occupational Therapy Clinic once stretched to between nine to 12 months; today, those times have fallen to between four to five months.
"There's still room for improvement, but now that we have a more efficient patient-tracking system in place, we're able to make sure all our patients get the care they need in a much more timely way," says Risa Olsen, manager of Occupational Therapy, South Zone-West.
"We have always taken urgent referrals right away," she adds, "but if patients want to have their home assessed for safety, for example, or they need support with rehab, we're able to ensure they're being referred and booked appropriately so that they are seen as soon as possible."
Kimberley MacKinnon, Path to Care senior project manager, South Zone, adds: "The South Zone Occupational Therapy teams, through business-process optimization, expanded access and decreased wait times for patients — and it really is a fantastic success story."
The Path to Care program, which began in 2012, works with specialty health services throughout AHS by helping them standardize and optimize their referral, wait-list and wait-time processes.
The Path to Care team leads staff through a series of customized implementation sessions. Staff develop action plans and are provided with a suite of resources to set their team up for success.
"A key element of the program is ensuring that patients' level of need has been properly assessed and is monitored while they wait," says Lisa Beaulne, director of Path to Care. "This reduces their risk and supports them in getting the best possible health outcome."
Maintaining open communication among patients, primary care and specialty providers throughout the patient journey goes a long way towards reducing anxiety around accessing healthcare, Beaulne adds.
"Just knowing where you are in your path to care and what to expect for your upcoming specialist appointment puts patients at ease and assures them that the healthcare system is taking care of their needs," she says.
The Lethbridge clinic also introduced a customized tracker designed by Path to Care. The tracker automates referral statuses to ensure every referral is categorized and grouped according to where it is in the clinic's workflow. This allows entry of individual referrals, Path to Care timestamps, reasons for referral, and workflow events such as decline, acceptance, missed appointment and cancellation.
Olsen says the improved triage and tracking system revealed that a significant number of referrals were for people who needed a wheelchair. This led to the development of a specialized wheelchair clinic that has reduced wait times and created more efficiencies.
"Our staff felt distressed when they saw people waiting for so long, but that is much less of a worry now," adds Olsen. "They can focus on the quality of care they provide. I'm really proud of the work they've done and what we've been able to achieve with the help of Path to Care."
To find out more, email Kimberley.MacKinnon@ahs.ca or pathtocare@ahs.ca.