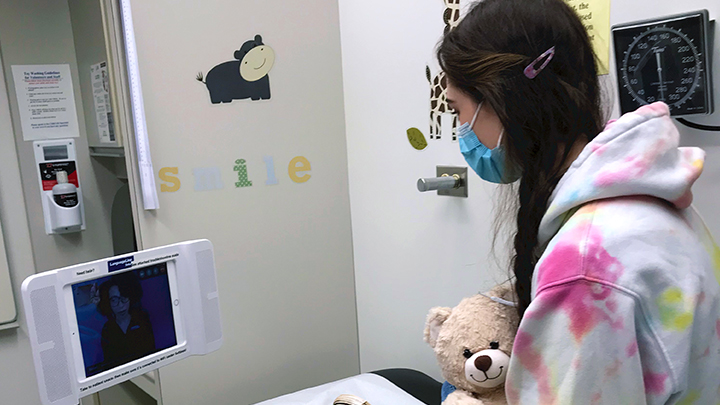 A young patient makes use a video link and an interpreter to ask questions about her health.
Interpretation & Translation Services achieves milestones during pandemic
Story by Jennifer Green | Photo by Ellen Bruseker
In a province with so much diversity, Interpretation and Translation Services plays a key role in ensuring equitable access to healthcare for patients and families when English isn't their first language.
Emily Herron, a Licensed Practical Nurse in Calgary Zone, has witnessed first-hand the importance of instant interpretation, especially during a pandemic.
"Translation services have been an extremely necessary tool in our fight against the spread of COVID-19," she says. "I've used it before, and feel that our translators are key in helping as many populations as possible to be empowered to ask questions and gain clarity on their situation.
"I also feel like the service helps the marginalized feel supported, heard and respected."
Herron recently called upon interpretation services to answer a patient's questions after they tested positive for COVID-19.
"The patient was extremely nervous at first, but very quickly calmed, knowing that they were able to receive information directly, and in a language they understood," Herron adds.
Demand has been growing. Interpretation and Translation Services recently achieved a major milestone — logging more than two million minutes of phone interpretation, a 48-per-cent increase over last year. As well, they provided more than 200,000 minutes of video interpretation, a 143-per-cent increase over the same period.
There's also been huge growth in the use of sign language interpretation over video.
Not only has the video service brought communication for deaf and hard-of-hearing patients, without any risks of transmission, it has also allowed Alberta Health Services (AHS) to deliver this service across the entirety of Alberta, including to smaller communities where in-person sign language was not previously available.
"During the pandemic, contact tracers have made more than 7,000 calls to Albertans using phone interpretation services," says Ellen Bruseker, provincial program lead, Interpretation and Translation Services. "It's evident that this is a much-needed service in Alberta, and we're so glad that we can offer it for our staff and our patients."
Interpretation and Translation Services has also worked in partnership with AHS Communications to translate up-to-date COVID information into 24 languages: COVID-19 Translated Resources | Alberta Health Services