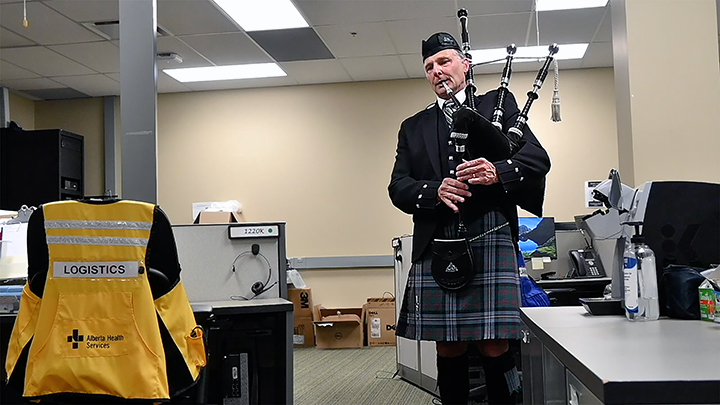 Chris McKiernan, a 20-year member of the British military and Planning Section Chief for the AHS Emergency Coordination Centre (ECC), plays the bagpipes before the ECC closes after 18 months of pandemic response.
With restrictions lifted, ECC transitions to become Readiness and Recovery Centre
For 18 months, the Emergency Coordination Centre (ECC) has been the hub of Alberta Health Services' (AHS) COVID-19 response.
It is a key part of the organization's Incident Management System and works in conjunction with ZEOCs and Site Command Posts to provide an integrated response to significant incidents.
"It's the heart of how we respond to a major incident — in this case, COVID-19," says ECC Director Nancy Guebert. "It brings together all pieces of emergency disaster management, healthcare services, corporate services — everything into one plan to respond to the pandemic."
Now, as restrictions have lifted, the ECC has transitioned to become the Readiness and Recovery Centre.
Part of that transition includes management of the more than 3,000 COVID-19-related documents that were created since the incident began.
"Some innovative, fantastic things have come about because of the pandemic," Guebert says. "Now it's about making sure they're anchored into the fabric of AHS and how we operate."
Still others will be archived for now, notes Dr. Laura McDougall, Senior Medical Officer of Health. "Some documents will be put into our 'toolbox' to consider for future communicable disease and pandemic responses."
The ECC is not a new part of AHS. It has been around since the organization was formed and has supported the AHS response to the H1N1 influenza pandemic in 2009, as well as the wildfires in Fort McMurray and the southern Alberta floods as well as many other incidents.
"The Emergency Coordination Centre is the mechanism that enables a consistent response, when consistency makes sense," McDougall says. "It is also about rapid decision-making and communication, allowing AHS resources to be moved to where they are needed most, when they are needed the most."
"It also lets us hear how things are working in the field, and to receive that constant cycle of updates: what's needed, what's working, and what do we need to provide.
"It is also the connection to Alberta Health's Emergency Operations Centre, ensuring we stay in lock-step with Alberta Health's response."
As the transition continues, the team is cautious when looking ahead to the fall, knowing that the pandemic is far from over around the world.
"We don't know what's going to happen next with COVID-19," McDougall says. "If we need to ramp up again, we are ready to ramp up."
"There is hope. There is light at the end of the tunnel," Guebert adds.
"But we do need to be ready so that our healthcare system can once again respond in a timely fashion."