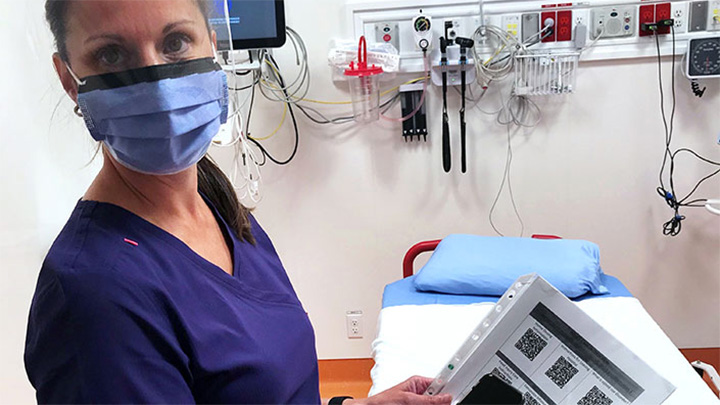 Randi Knutson, a clinical nurse educator at Chinook Regional Hospital, displays a page of QR codes, which are shared with Emergency Department patients to help them with their discharge instructions and follow-up care.
Lethbridge ED patients can now scan QR codes for information
Story by Sherri Gallant
To make aftercare at home a little easier, staff at Chinook Regional Hospital (CRH) Emergency Department have devised a system of linking discharge instructions to QR codes that patients can scan with their smartphones.
"It's not revolutionary," says Kevin Reedyk, nursing manager, emergency administration at CRH. "But it makes good use of existing technology, reduces paper waste (by about 75 per cent), and provides the patient with an easy link to an electronic document."
The credit, Reedyk insists, goes to the Emergency Department (ED) Advocates Team which focuses on finding ways to improve care in the department.
"We asked staff to identify the most commonly-used forms they provide to patients," says Darrin Gerl, a quality consultant with South Zone Integrated Quality Management, who supports the team.
"The (documents and forms) had to be accessible to the public — so not on an internal AHS website. We then created QR codes for each form and organized them under common themes. We pasted images of the QR codes on master sheets, laminated them and provided them to each desk in the ED."
Staff now offer the option to patients who wish to use their phones to access the information using the QR codes, and then save the document link in their list of favourites. The codes are easily readable by most cell phones with cameras.
"Some patients don't like them, or don't have a phone with them, and in these cases we still provide printed paper instructions," adds Reedyk. "But the feedback we're getting is positive from most patients — and physicians, nurses and support staff are extremely happy as well."
Until they started using the technology this year, patients usually received several sheets of printed instructions, which can be easily lost, forgotten or destroyed. Now, when a patient uses their smartphone to scan the appropriate QR code for their needs, it connects them with everything they need to know — from care instructions to follow-up information and additional resources.
Meanwhile, the Intensive Care Unit at Medicine Hat Regional Hospital is also trying this approach with new patient information posters and patient/family handbooks that incorporate QR Codes to provide more accurate and accessible information and resources for patients and their families during their ICU stay, and beyond.