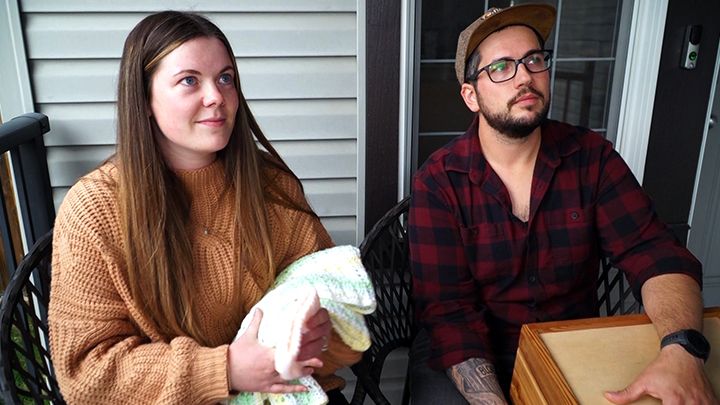 Jessica and Calen Blondal found hope and inspiration in the Calgary Zone's Pregnancy and Infant Loss Program after the devastating loss of their newborn daughter, Isla. Photo supplied.
Couple comforted by compassion and support of pregnancy and infant loss team
Story by Blain Fairbairn
CALGARY — The loss of a pregnancy or infant is one of the most shattering experiences a parent can go through. Despite a healthy and normal pregnancy, Okotoks couple Jessica and Calen Blondal faced this heartbreak when they lost their newborn daughter, Isla, at 41 weeks last Dec. 27.
"It was really devastating. We didn't know how to process it or how the rest of our lives would look or even make sense," says Jessica, an elementary school teacher.
"We lost more than our daughter — we lost our hopes and dreams for the future — and what our life would be like with her."
Thankfully, the Calgary Zone's Pregnancy and Infant Loss Program, located at the Foothills Medical Centre (FMC), was there to offer the expert compassion, support and counselling the couple needed.
For more than 20 years, the program has provided emotional support, teaching and treatment for grieving women and their families in and around Calgary who have had a pregnancy or infant loss.
Sadly, the need is great.
In Alberta, nearly 600 families experience a stillbirth or neonatal loss each year, with one in five pregnancies ending in miscarriage, according to the Alberta Perinatal Health Program.
The Calgary Zone Pregnancy and Infant Loss Program offers a wide spectrum of support and resources including individual, couples and family counselling after the loss of a pregnancy or baby: a bereaved parent support group; peer support groups; memorial services; a memory box with treasured mementos; and family resource guides.
Azmina Lakhani, a family counsellor at the FMC clinic, says support services are tailored to fit the needs of each family.
"There is no right or wrong way to feel or go through a loss," she says.
"It's important to honour each family's journey and understand that each one is unique. Our intent is not only to help couples work through and make sense of their loss, but to also advocate and create awareness with the goal of breaking the silence around pregnancy loss."
For the Blondals, the program serves as more than just a safe, caring environment in which they can grieve. It's also an educational opportunity that has allowed them to reframe their experience from a tragic loss to a different kind of family dynamic.
"Although she's not here with us physically, Isla is still such a huge part of our life — and not just ours but our family's and friends' lives, too," says Jessica.
"Our lives have been totally transformed because of our daughter and through all the support and love we've received. The program helped us understand that we're still parents and can we honour that role and honour Isla as our daughter.
"The program empowered us to make that happen. We couldn't have done it without their help," she adds.
It was really nice to have a resource available with people who deal with families like ours every day and were able to help us. We've come a really long way."