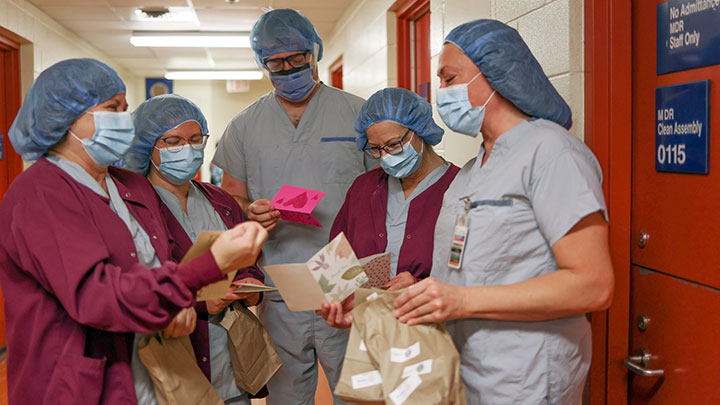 Medical Device Processing employees (left to right) Corina Whyke, Becky Davis, Randy Nelson, Mary Wood and Kim Moore look over their care packages at the Olds Hospital and Care Centre on Nov. 2.
Sharing the love spreads across town
Story by Melissa Ballantyne | Photo by Leah Hennel | Video by Paul Rotzinger
What began as an attempt at a small act of kindness for employees at Olds Hospital and Care Centre, grew into a community-wide initiative, bringing together a dozen community groups, and impacted nearly 1000 people. Understanding healthcare teams have been working non-stop throughout the COVID-19 pandemic, caring for members of the community when loved one's couldn't, Rotarian Mary Turner wanted to ensure all those who play a role in her community– frontlines and behind the scenes – were recognized.
The significant impact of the initiative is being recognized provincewide and beyond, with Rotary Districts that cover Alberta, eastern Saskatchewan, northern BC, the Yukon and parts of the Northwest Territories, all looking to take on a similar initiative.
"When I first approached our Rotary Club in Olds, my goal was to see if it would be possible to write enough cards to thank every staff member at the Olds hospital," says Turner. "I wanted everyone to receive recognition, because is truly a team effort, and every one of the employees are important. I wanted them all to feel acknowledged, included, and appreciated."