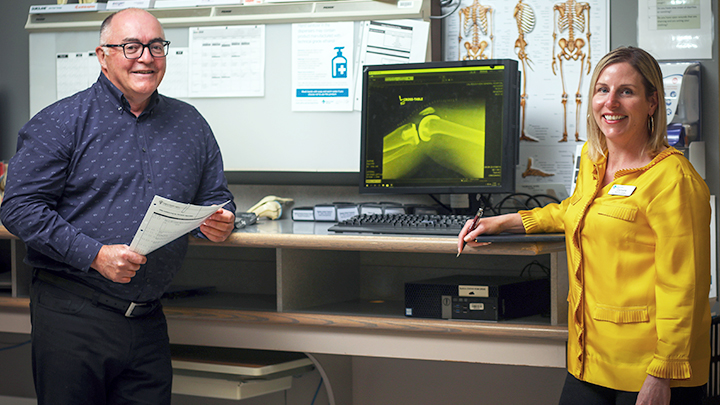 Dr. Kelley De Souza, left, and Carmella Steinke, shown here before the pandemic, led the Calgary Zone application for the Choosing Wisely recognition.
Global movement sees healthcare teams reduce unnecessary tests, treatments and procedures
Story by Shane Westin | Photo by Leah Hennel
It's been nearly three years since Choosing Wisely Canada (CWC) — the national partnership that questions why things in healthcare are done the way they are — invited hospitals across the nation to join its Diving into Overuse in Hospitals campaign.
The Choosing Wisely global initiative aims to inspire and engage healthcare professionals to take leadership in reducing unnecessary tests, treatments and procedures — and enable them with simple tools and resources — making it easier for all to 'choose wisely'.
It challenges healthcare leaders to rethink long-established practices in light of new evidence and recommendations to improve health outcomes and experience. It's a challenge Alberta Health Services (AHS) has accepted — with planning now underway to ensure all Alberta hospitals achieve their CWC designation by 2024.
Choosing Wisely Canada estimates upwards of 30 per cent of medical tests, treatments and procedures in Canada are potentially unnecessary. This national movement also aims to highlight how decisions by physicians and care providers can potentially expose patients to harm, lead to more testing to investigate false positives, contribute to unwarranted stress for patients and their families and consume precious time and resources.
For example, Choosing Wisely Canada shares free toolkits and implementation recommendations aimed at improving patient safety such as reducing inappropriate catheterization or pausing the draws on unnecessary blood work.
As leads in this initiative, AHS' Improving Health Outcomes Together (IHOT) team recognized in 2019 that a more tailored approach could help reach this goal — and created a concise playbook version of the CWC recommendations — to give sites guidance to select an approach that would best meet their needs.
Using this playbook, Edmonton's Royal Alexandra Hospital (Royal Alex) soon became the first hospital in Alberta to achieve the Choosing Wisely Level 1 designation. Since then, the Royal Alex and four Calgary hospitals have gone on to achieve Level 2 — and are now aiming to attain Level 3.
"In the Calgary Zone we were able to quickly identify which Choosing Wisely recommendations had already been achieved and what quality improvements we should focus on," says Dr. Kelley De Souza, an orthopedic surgeon who led the Calgary initiative with Carmella Steinke, executive director, Integrated Quality Management.
"That targeted approach was successful in part due to the support and resource materials we received from IHOT," he adds.
Revised and renamed in the spring of 2021, the Right Care Alberta Playbook also helped the University of Alberta Hospital (UAH) to achieve the Level 1 designation. Although Choosing Wisely is currently revising the program and is no longer accepting Level 1 applications, being designated a CWC hospital brings many benefits for patients, clinicians and the health system as a whole —including improved quality and health outcomes and a better and safer patient experience.
The new Choosing Wisely campaign for hospitals is expected to relaunch this spring.
"We need to provide value to patients and our system," says Dr. Derek Townsend, UAH deputy facility medical director. "Choosing Wisely focuses our efforts for further developing a value-based healthcare system."
Cathy Osborne, UAH senior operating officer, agrees: "We're always looking for ways to improve patient care. When IHOT introduced their Playbook and the Choosing Wisely campaign, we knew we wanted to participate.
"By aligning those guidelines with our Connect Care implementation, we were able to quickly reduce lab utilization. And that translates directly into a better patient experience," she adds. "We are now working toward our Choosing Wisely Level 2 and Level 3 designations."
Sharing her enthusiasm is Michael Sidra, IHOT senior program director, who notes that Red Deer Regional Hospital Centre in the Central Zone also attained Level 1.
"To see this improvement initiative spreading is very exciting," he says, and would like to congratulate "everyone at the UAH and Red Deer Regional who worked to reduce low-value testing.
"We look forward to continuing this journey with them and their site Quality Committees."
---
If you would like to know more about how your site can become a Choosing Wisely Canada hospital, contact IHOT at ihot@ahs.ca for more information and direction. A revised RCA Playbook will be developed and made available as soon as CWC modifications are announced.
This project is part of the provincial initiative focused on promoting clinical appropriateness across our province's healthcare system known as Right Care Alberta. Learn more.