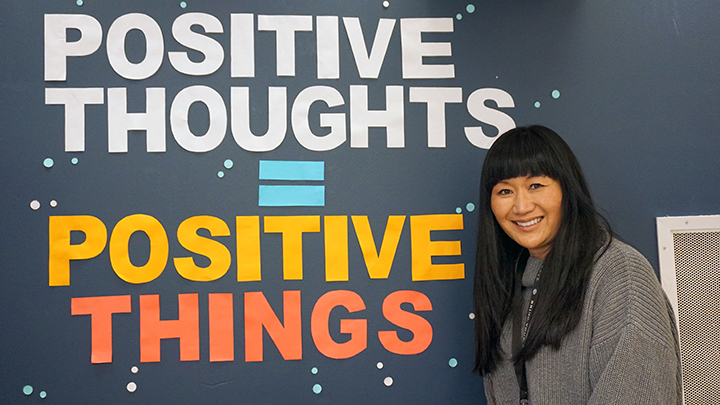 Program Manager Holly Maddex oversees Step Up Step Down, a program for youth that addresses addiction and mental health in the Central Zone.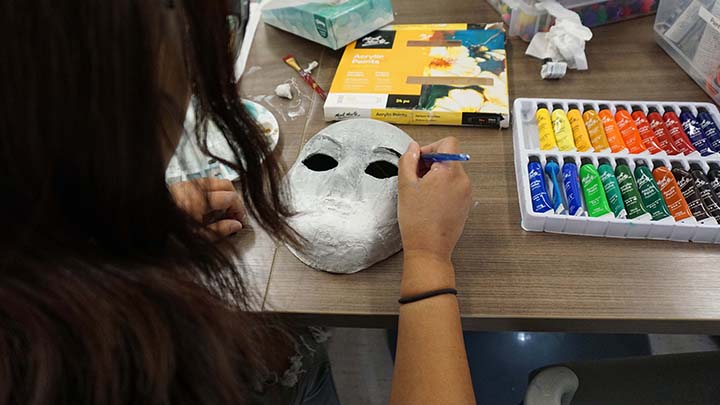 One of the live-in youth clients is shown here taking part in an art project about their identity.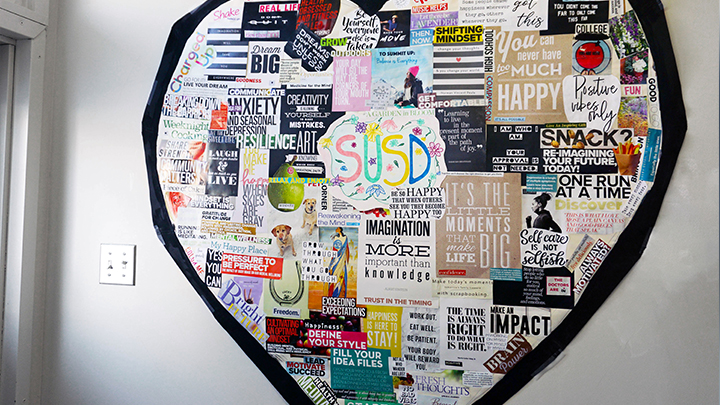 This heart collage is one of many visuals created for the Step Up, Step Down program to reinforce its positive messages.
Step Up, Step Down boosts mental health for Red Deer youth
Story & Photos by Tracy Kennedy
RED DEER — A 17-year-old girl with braids and a quiet smile sits on a comfy leather chair, the centre of attention.
Her peers and caring adults, scattered around the sunlit room in a loose semi-circle, face her and take turns pointing out the teen's positive attributes — as they recognize her unique qualities and celebrate her mental health journey.
It's graduation day at Step Up Step Down (SUSD). A slide show and the presentation of a scrapbook signed by all crown the moving ceremony — and mark the end of her live-in stay at the Alberta Health Services (AHS) mental health program in Red Deer.
"From the beginning, I remember your eagerness to learn, and how much it has paid off, looking at you now," she hears from Valerie Hannotte, a licensed practical nurse (LPN) with the program. "Look how far you've come. Keep moving forward. Always keep shining.
"Don't worry if you make a few mistakes along the way; it means you're out there and doing something and you're changing the world. You will make a difference. You've made such a big impact on all of us."
SUSD was established in January 2021 to bridge the gap in the mental health continuum between an acute care hospital stay and community clinic support. Tailored for youth aged 13 to 17 who are already seeing a mental health clinician, the live-in program runs about three months — although some clients stay for shorter or longer periods — and provides 24-hour, intensive supports for both the youth and their family.
"You've shown vulnerability, courage and growth. Remember to communicate your thoughts and feelings, and it's OK to ask for support and guidance. Implement your plans with courage and persistence. Have faith in your ability to succeed and never give up," says LPN Alyssa Brucks who, along with other program support workers, describe the teen as funny, smart and a natural leader.
These insights illustrate the connections made between the teen clients and their caregivers. Having the youth feel truly seen and understood, as a result trusting the staff, is a significant piece of solving the puzzle that contributes to the success of SUSD.
"Initially, when youth come in, it's about getting to know each other. Building a relationship builds that trust for the youth to start opening up," says Holly Maddex, program manager.
"Then we start reviewing some of our therapeutic groups and determine what the youth's goals are, what supports they need, and where they really might want to work on boundaries or communication or their coping skills."
Individual and group therapy, conference cases with parents, classes in life skills, coping skills and communication are all part of the program. Support staff underscore the importance of keeping a routine, sleep, nutrition and physical wellness to round out a toolkit of healthy strategies for youth.
"We also introduce them to so many other activities as healthy, positive outlets," Maddex adds. "So for instance, some youth have never experienced snowshoeing, or they have never played basketball or tennis, or done art, or have gone boxing. So we try to make sure that we introduce them to those activities and we do research in their communities to make sure they're available there to really help them transition home.
"It's truly a privilege to have an opportunity to work with these youth, their families and communities, and this amazing team."
Expressing her thanks to the group, the graduating teen says she has learned a lot about herself and others. Her caregivers remind her that her passion, her independence and her goals — including becoming a psychologist — will serve her well for a future that will include mistakes and victories, vulnerability and growth.