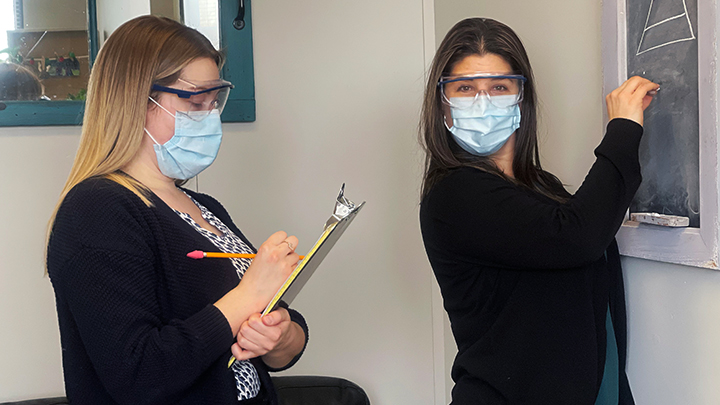 Practicum student Kristyn Nelson, left, takes notes as mental health therapist Kristine Crossland offers up some instruction in Bonnyville. Photo supplied.
New approach to practicums sees rural communities roll out welcome mat
Story by Gayleen Froese
It can be difficult to make connections and feel at home in a new place. For healthcare students considering practicum locations, worries about going somewhere new on their own can discourage them from applying for rural or remote northern opportunities.
That's why a pilot program in northeastern Alberta is giving students a chance to connect in a new way — by bringing several students from the same social work program into communities together.
"They're trying to create a supportive situation for practicum students who are going into a community that's not their own," says Kristine Crossland, a mental health therapist in Bonnyville and practicum leader for one of the students in the pilot.
"It's a great idea because these communities are quite hard to recruit to. We don't have any local university program, per se, where we could have local students come do practicums."
This program is a collaboration between Alberta Health Services (AHS) and the Rural Health Professions Action Plan (RHPaP), with support from managers throughout Alberta's northeast.
Debra Samek, practice director, Provincial Social Work, says a similar program for nursing students in High Level inspired the pilot.
"We were able to customize it for Allied Health," she says. "We know there are more students wanting AHS experiences than we have placements. The cohort program opens up those rural and northern placements for students who might otherwise be nervous about going into a new community."
Brooklyn Bentley, a fourth-year Bachelor of Social Work student at MacEwan University, grew up in Cold Lake but saw the community from a new perspective when she did her practicum there.
"Working in rural areas, you notice more of what our clients are struggling with, whether that be access, resources, child care. I've noticed how the social determinants of health are affecting our clients."
While the students concentrate on their new roles, their communities partner with RHPaP to make them feel at home.
"We had them complete an interest inventory early in their placements," says Jennifer Best, far north-east consultant with RHPaP. "That helped us know what they were interested in, to better connect them into the community. A lot of them were interested in yoga, so they got a lot of information about the different yoga studios in town and we mailed them yoga vouchers as an opportunity for them to go as a cohort and do something outside of work together."
These three-month practicums offer students diverse work experiences and a chance to see how welcoming and fun rural life can be. What does the program hold for the future?
"Ideally, we'd like to see interdisciplinary cohorts where students can learn from each other," says Samek.
Bentley says she learned a lot from the pilot.
"While working in rural areas you're exposed to experience that you would not find in the cities. As clinicians, we have to be resourceful and creative with what we have available in our region."
Will these experiences result in more healthcare professionals choosing to live and work in the north?
It's too early to say for the current cohort, but Best adds that there's reason to be hopeful.
Last fall, four psychiatric nursing students completed a similar program in the Regional Municipality of Wood Buffalo — and three of them have since chosen to stay in their new northern home.