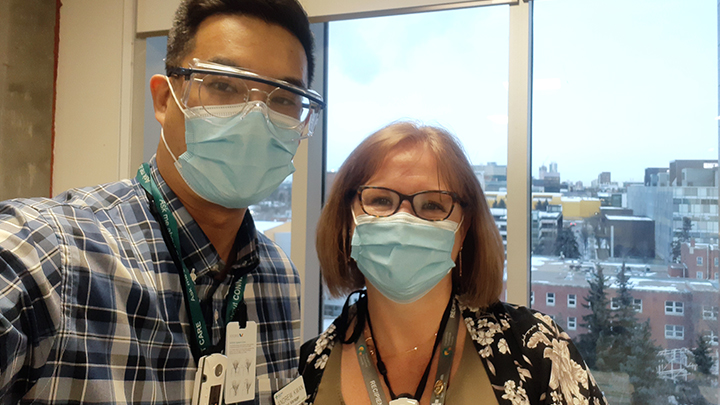 Unit manager Andrew Kwan and clinic manager Samantha Perryman came together as part of the team that redeployed to the Pandemic Response Unit at Kaye Edmonton Clinic in January and February.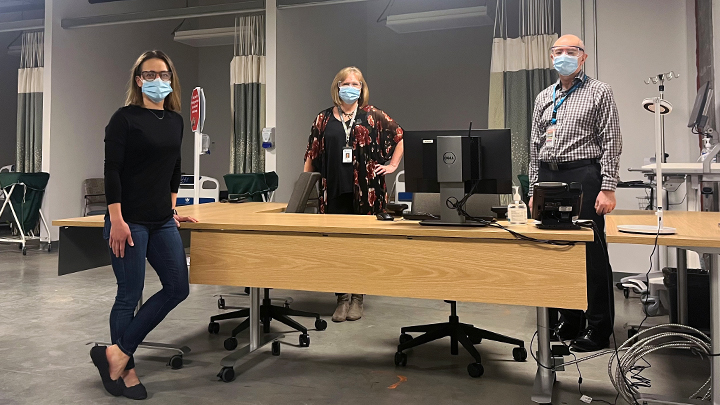 Dr. Nadia Salvaterra, left, Samantha Perryman and Michael Melia helped to oversee the Pandemic Response Unit in Edmonton.
Redeployed staff created exceptional care team at Kaye Edmonton Clinic
Story & Photos by Adriana Amelio
EDMONTON — As the year began, with the fifth wave of COVID-19 swelling hospital admissions across the province, it became apparent that Edmonton Zone would need to activate its Pandemic Response Unit (PRU) at the Kaye Edmonton Clinic (KEC).
Unsurprisingly, our staff and physicians were ready.
After more than a year of planning, the PRU was activated on Jan. 24 in response to the strain on the healthcare system. More than 100 staff from across the zone were redeployed — including nursing, allied health, housekeeping, lab operations, physicians, managers and staff from human resources.
"The PRU is really a 'you have to see it to believe it' experience," says Michael Melia, executive director of KEC and Ambulatory Care in the Edmonton zone, who was tapped to lead the PRU activation.
"We developed a 195-bed facility in previously shelled space at the KEC. This will allow us to expand the number of available acute care beds in the zone to match current and future pandemic-related demands. The whole zone came together to support this project. It's an honour to work with such an incredible team."
Initially, the PRU opened 18 beds to care for patients recovering from COVID-19 who were no longer infectious, as well as for patients with fewer complex healthcare needs than those being cared for in traditional inpatient spaces.
"At a time when we were already so exhausted from the pandemic, everyone came together with great enthusiasm" says Dr. Nadia Salvaterra, zone clinical department head for Family Medicine for AHS Edmonton Zone and medical lead for the PRU.
"The opportunity to respond in a constructive and patient-focused way to the adversity of the fifth wave was both challenging and motivating — and our staff and physicians rose to the occasion, going above and beyond for patient care. This was a highlight of the COVID response for our PRU team."
As a non-traditional care setting, the unit required staff to be flexible in their roles, creative in their solutions and work to their full scope of practice. Exceptional patient care remained a top priority, even in a new and unfamiliar setting, where staff quickly adapted to carry out their roles successfully.
As the number of hospitalized non-ICU patients slowed across the province, the PRU began to ramp down and, on Feb. 13, the unit was deactivated.
"Even though we knew it was coming, the closure of the PRU was emotional for me," says Barbara Wong, a unit manager who found herself in the thick of it from the start.
"I had such an amazing experience, because it was handled with such support, understanding, openness and willingness to work together," she adds. "This was a once-in-a-lifetime experience for me. The team bonded so quickly and tightly, with the common goal of providing the best care we could for our patients and their families. This is embedded in every fibre of what I do. I'm so grateful for all the hard work that brought us all together."
Over the life of its operation, a total of 30 patients were admitted to the Pandemic Response Unit.
"Every day we are thankful for the staff and physicians that make AHS great," says Cathy Osborne, senior operating officer for the University of Alberta Hospital and PRU executive sponsor.
"The PRU activation was something truly special. We saw staff and physicians pull together in a completely unknown environment, with new teams and roles, and still achieve compassionate high-quality patient care. I think I speak for everyone at AHS when I say thank you."