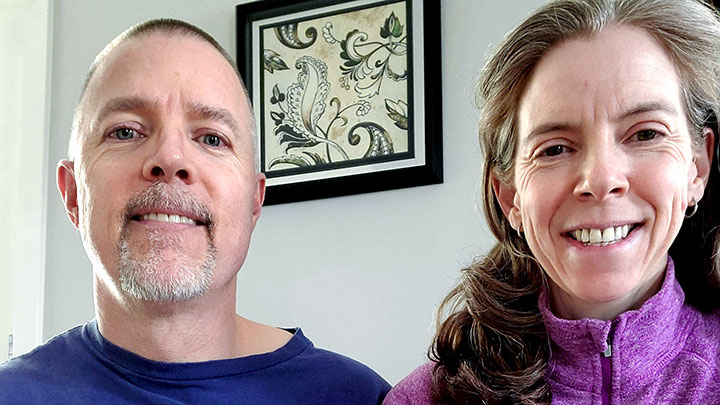 Calgary couple Mike and Shauna Dardis remain in awe of the immediate life-saving care they received in Lethbridge when his heart stopped during a visit to the hospital's emergency department. Within moments, the team restarted the 55-year-old's heart and put him on a STARS flight to Foothills Medical Centre in Calgary, where stents were swiftly implanted in his blocked and narrowed arteries to restore healthy blood flow. Photo courtesy of Mike and Shauna Dardis.
Calgary couple grateful to Lethbridge ED team for swift life-saving action
Story by Sherri Gallant
LETHBRIDGE — Mike Dardis had been suffering a day or two from pain in his left shoulder when his wife Shauna took him to the Emergency Department (ED) in Lethbridge to have it checked out. The Calgary couple were in town the weekend of Feb. 5 to watch their son Paul compete in a swim meet.
Leaving Paul at their hotel with a promise to return soon, they got to Chinook Regional Hospital (CRH) about noon on the Saturday. Mike, who is 55, was taken immediately to a treatment room and given an ECG, which showed a normal heart rhythm.
Relieved, Shauna heard the ED physician order a CT scan to check for blood clots, since all three members of the Dardis family had recently recovered from COVID-19. If there were clots — a possible side effect of COVID — it might explain his shoulder pain. While a nurse put an IV in Mike's arm, just in case medications were needed, Mike turned to his wife to say his pain was suddenly much worse and he felt dizzy.
Before Shauna could even answer, his eyes rolled back — and his heart stopped.
"The nurse immediately started chest compressions, yelling 'Code Blue,' yelling for the doctor, faster than I could blink," Shauna recalls. "As the crash cart came into the room I got away from the head of the bed and suddenly the room was full."
For one to two 'eternal' minutes, nurses performed CPR — and then the physician shocked Mike's heart back to life.
"What was so remarkable was that the team was so efficient," adds Shauna, a registered nurse who works as a manager. "I just couldn't believe it. I just renewed my CPR a couple of weeks before this and I remember thinking: 'Oh my God, I feel like I'm in a CPR video, because everybody's listening to each other — nobody's missing a beat'.
"The doctor acknowledged me in the room, and the nurse did as well. It was so incredible. The nursing staff and the other staff that came in did everything possible. The physician was on the phone with Foothills (hospital in Calgary) and with STARS, while telling me what was happening every step of the way: 'He's going back to Calgary. He has to get to the Cath Lab. STARS will be here. I want everyone on the roof by 3 p.m.!'"
With Mike on his way in the big red helicopter, Shauna arranged for friends to bring Paul home after his swim meet, and she headed for Calgary.
"The pilot texted me when they arrived," she says. "He didn't have to do that, but he did. Mike left Lethbridge at 3 p.m. and he was in the Cath Lab by 3:45, getting three stents (small mesh tubes inserted into arteries to widen them to restore blood flow). There had been no indication. My husband does not have high cholesterol, does not have high blood pressure and no irregular heart rate. He gets a yearly check-up. We are fit, and we have a good diet.
"He was one of those guys you hear about who drop dead at 55 out of the blue. That could have been him."
One of Mike's arteries was 100-per-cent blocked, and two others were 60-70-per-cent blocked. Doctors told the couple that based on Mike's angiogram, they don't believe the blockages were a result of COVID-19, but had been forming for a number of years. He returned home in four days and went back to work after four weeks.
"We received a note from Shauna and Mike after he was treated at Foothills Medical Centre," says Kevin Reedyk, ED nursing manager at CRH. "Shauna also reached out to our team by phone, and it was wonderful to hear he had such a good outcome. We don't often hear back from patients in situations like this. We see patients and their families at the worst moments of their lives — and we're happy to know we made a difference in how things turned out."
The Dardis family says they are truly thankful.
"I want people to know that, even in smaller rural hospitals, the staff are amazing — they saved a life," says Shauna. "(With the pandemic) they've been through so much in the past two years. There's a lot of fatigue. But we cannot think of how this could have been handled any better."