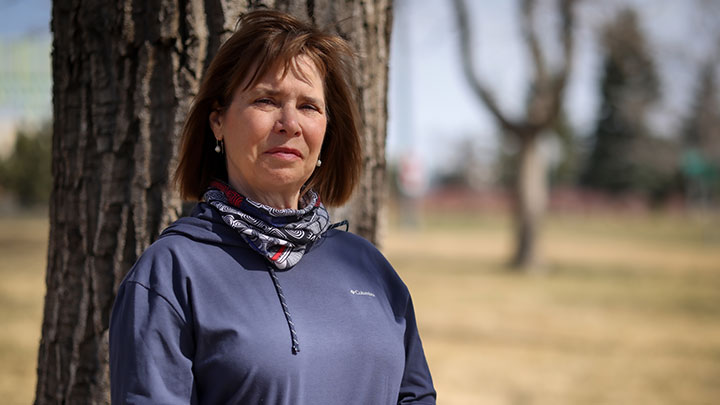 Alberta Health Services volunteer Gwenn Boryski is reminding Albertans to talk with their families and loved ones about advance care planning. Photo by Leah Hennel.
'If you have that conversation now, it will give you comfort'
Story by Kim Bradley | Photo by Leah Hennel
Helping patients and families understand the benefits of advance care planning before they reach 'that crisis moment' is something volunteer Gwenn Boryski does often.
In her capacity as an AHS volunteer, and as a former patient advisor, Gwenn has facilitated conversations between staff, patients and families about serious illness. But her passion and understanding has only grown since it became personal.
"Like many adult Albertans, I've had some deaths in the family that were preceded by illness, among those I've loved the most. Because they had an Advance Care Pan (ACP), I was able to focus on caring for my loved when they were sick and grieving afterwards, because I didn't have to worry about the business side of things," adds Boryski.
"It's a great kindness to your people if you tell them ahead of a crisis that this is what you want. It takes the burden off of the caregivers and it makes sure your wishes are honoured."
Advance care planning is more than writing a will or identifying a power of attorney. Planning also involves recording your wishes for medical care, resuscitative care, and your comfort care should you become unable to speak for yourself. You don't have to be elderly or critically ill to write these, either.
April 16 is National Advance Care Planning Day, and a day on which every Canadian is encouraged to have these conversations with their families and loved ones.
"If you have that conversation now, it will give you comfort, even though it's uncomfortable at the time," says Boryski.
Dr. James Silvius, senior medical director for AHS Provincial Seniors Health and Continuing Care, says writing advance care plans for the whole family at once is a great way to ease the discomfort and fear.
"Planning as a family enables you to have those conversations all at once and share your wishes collectively," he adds. "It's the best thing to do for your loved ones before decision-making becomes emotional and a real burden. Sometime difficult conversations are the most caring ones you can have."
---
To learn more about developing an Advance Care Plan or to have your questions answered, visit Advance Care Planning on the AHS website.