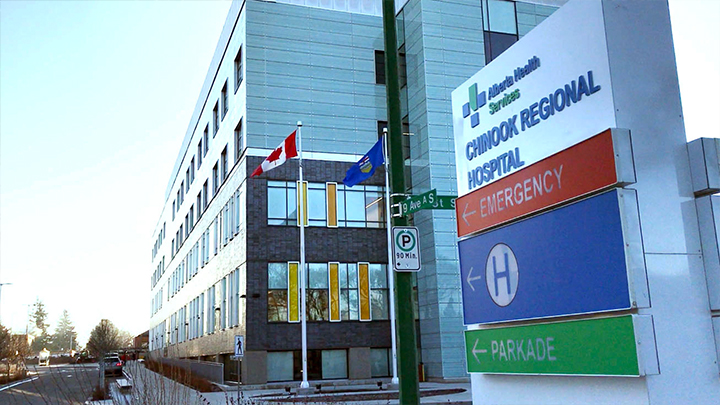 Chinook Regional Hospital in Lethbridge has created a welcoming environment for inpatient mental health care that's far removed from the cold, stereotypical institutions so often depicted in movies and TV. Photo by Patrick Burles.
Partnership with Schizophrenia Society of Alberta shares day-to-day life on psychiatric unit
Story & Photo by Patrick Burles
LETHBRIDGE — Sunlight pours in through massive skylights. Below, a handful of people sit quietly around tables in the common area reading, working on puzzles or playing board games, either on their own or with others. In the background, Olympics coverage can be overheard from a TV in a modest media room. Nearby, a kitchenette is stocked with light snacks and drinks.
If not for a pair of nursing stations and a secure entry, many would find it hard to believe they're on the psychiatry unit at Chinook Regional Hospital (CRH) — a welcoming environment far removed from the cold, stereotypical institutions so often depicted in movies and television.
With this in mind, Alberta Health Services (AHS) Addiction and Mental Health staff jumped at the opportunity to answer a call for help from the Schizophrenia Society of Alberta (SSA).
"The patients and families that the society supports wanted information on the day-in-the-life of an inpatient for someone with a diagnosis of schizophrenia," says Chelsea Slobodan, manager of Inpatient Psychiatry at CRH. "The society gave me some questions that family members had asked about."
In response, Slobodan and her team stepped up to create a provincewide Zoom presentation last October. "We put together a team including a nursing student, a nurse preceptor, a floor nurse and myself so we would be able give people a well-rounded vision of what a patient's stay with us would look like."
The presentation covered the basics such as the variety of group and one-on-one therapy options available on the unit, visitation rules, and when meals and medications are given to patients.
"We strive for person-centred care, so depending on their diagnosis and needs, it's going to look a little different for every single patient," says Slobodan. "That said, a lot of the routines during an average day on the unit are the same, and I think having a really clear idea of what treatment looks like in hospital is reassuring to them.
"There's also a lot of stigma and mystery around what happens with mental health treatment, and the more transparent we can be, the better it is for care and reducing anxiety. Everybody should have an awareness of what goes on here."

During the question-and-answer part of the presentation, the greatest benefit became apparent to Slobodan, when several participants asked: How can family be more involved?
"We're an adult unit and, as adults, there are confidentiality rules that prevent us from sharing information with families unless we have a patient's consent," adds Slobodan. "When you're a parent, a child is a child, whether they're four or 40. I get it — I have four kids and I don't care that they're over 18 now, they're my kids.
"While the privacy of our patients is critical, that doesn't mean families can't help. We always encourage those in our care to involve family because we know that support makes a real difference. And we always, always accept collaborative information from families and loved ones. That could be calling the unit and sharing something you feel is important. We need as much information as possible to help people."
Kimberly Sinnett, community education program coordinator for the SSA, says their partnership with AHS is an excellent fit, and has been well-received by the people they serve.
"The presentation was highly praised by our family and community members," she adds. "We know that a diagnosis of schizophrenia affects the whole family and can often feel isolating and alone. We offer resources and support to empower family members with knowledge and hope.
"AHS has been a great addition to our Educational Speakers Forum — sharing practical knowledge with caregivers. Families feel more prepared and empowered as they continue to navigate their way through complex situations and support their loved ones."
Both Sinnett and Slobodan say they're eager to grow their partnership with future sessions in mind.
"We want to help and we want to share this information with families," says Slobodan. "We want them to feel more at ease when their loved ones are with us. It's important to keep talking and to let people know that it's not bad to have mental illness."