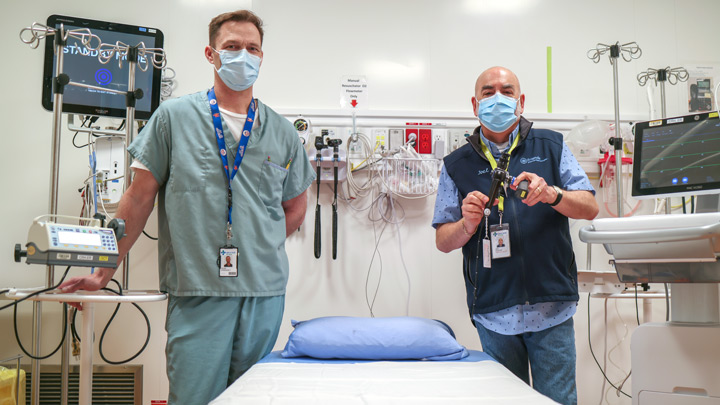 Kevin Reedyk, nursing manager of the ED at Chinook Regional Hospital in Lethbridge, left, and ED volunteer Joel Bermack, show off three pieces of equipment purchased with a $33,000 donation from Beth Israel Synagogue in Lethbridge. Photo by Leah Hennel.
Chinook equipment donation improves patient care, saves time for staff
Story by Sherri Gallant | Photo by Leah Hennel
LETHBRIDGE — As a volunteer for four years in the Emergency Department (ED) at Chinook Regional Hospital, Joel Bermack has seen scores of patients in critical situations. No two shifts are alike, and while one minute Bermack might be helping a patient or family member, the next he's doing something to ease the burden for staff.
"In being here as a volunteer, I've noticed that things are getting busier all the time," he says. "I saw a need for some equipment that could help make the nurses' and doctors' jobs easier, and I thought about approaching my congregation to make a donation."
Over the course of more than a year, Bermack talked with ED staff and with Dr. Bilal Mir, South Zone associate chief medical information officer, to gauge where the stress points were greatest, then approached his congregation at Beth Israel Synagogue.
"We had some funds available, and while it started off that maybe we would make a small donation, we saw the need and decided to make a big donation and purchased three pieces of equipment."
Through the Chinook Regional Hospital Foundation, Beth Israel donated $33,000 to buy an ECG machine, which measures a patient's heartbeat and rhythm; a pediatric nasal scope; and a pediatric intravenous (IV) infusion pump.
Kevin Reedyk, nursing manager of the ED at Chinook, said Bermack's powers of observation and skills as a volunteer are valued — and the equipment is making a big difference.
"It's so appreciated," says Reedyk. "The extra hands in the ED, help with wayfinding and just interacting with people. It can get tense when it's busy and people, when they feel informed — it helps with a sense of calm. Joel does that well.
"The equipment his congregation provided — we have that equipment in the building, but not at our fingertips. In the case of the ECG, we had two existing ECG machines, but there are three distinct areas of the department, so our nurses had to go from one end of the department to another to find one at times. They don't have to do that anymore.
"With the pediatric equipment, when we needed those things, we'd have to send someone up to the pediatric unit to borrow them, but now we have our own. It's a big deal. It's much more efficient when we have our own and we're not sharing with another department."
Bermack says he's pleased to see the new equipment in action during his volunteer shifts.
"I used to think, what if the time it takes to go to pediatrics for equipment affected someone's life? What if they couldn't get it fast enough? With the ECG machine, now they don't have to run all over the department to try and find one, and the new one has the latest technology, so it's great. I see it being used every shift.
"The nursing staff come up to me and tell me it's making their job a little easier. We're so pleased that we could do this, and to be here and see it being used makes it feel even better."
Volunteering in the ED isn't a job for everyone, but Bermack says he wouldn't trade it for any other posting.
"We do need people," he says. "We have spots open — we're busier than ever here. Whether we're just stocking isolation gowns in the drawers, or taking someone to diagnostic imaging in between seeing the doctor — anything we can do helps.
"Part of my job as a volunteer is to talk to people when they come in and explain to them why it may be such a long wait. They may see someone who came in half an hour after them and they get in first, but when we explain the process, it usually calms them."