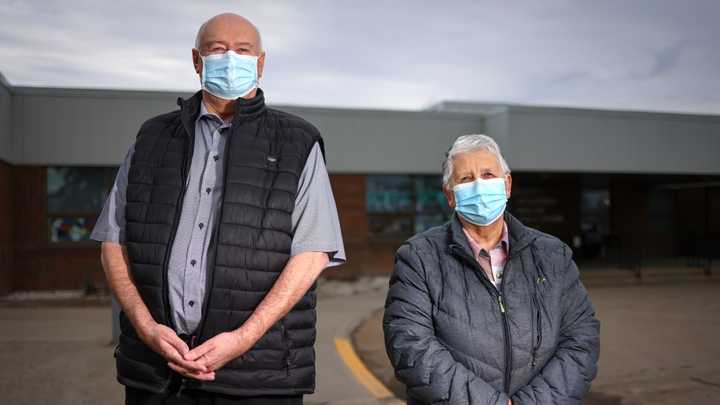 Phyllis Loewen and Dale Shippelt are longtime board members with the Rocky Mountain and Area Health Services Foundation. Both care deeply about the Rocky Mountain House community and became involved with the foundation to make a difference in local healthcare. Photo by Leah Hennel.
Meet Phyllis Loewen & Dale Shippelt of Rocky Mountain House & Area
Story by Amelia Schofield | Photo by Leah Hennel
Alberta Health Services recognizes May as Health Philanthropy Month. Throughout the month, we'll be celebrating our philanthropic partners who raise funds for healthcare across the province.
The Faces of the Foundations profile series will introduce you to individuals who lead healthcare philanthropy across Alberta. This week, we are pleased to profile Phyllis Loewen, chair, and Dale Shippelt, treasurer of the Rocky Mountain House and Area Health Services Foundation.
Why did you get involved with the Rocky Mountain House and Area Health Services Foundation?
Phyllis: I'm a retired recreational therapist and have had an interest in healthcare my entire life. As a recreational therapist, I worked with young children and individuals with mental illness, and I began to see some needs in the healthcare system. I thought that if I stay involved in healthcare and pursued the areas I was most interested in, I would be able to help meet those needs.
Dale: The well-being of our community and its residents has always been near and dear to me. I was invited to join the Rocky Health Foundation over 15 years ago when the main fundraising event was a hospital gala. During the gala, I oversaw a six-course meal and helped provide our guests with a premium experience to entice financial support toward the foundation.
Each gala was a success, generating significant funds for local healthcare. Seeing the difference these funds and other donations made at our hospital was an inspiration to continue to do more. Today, I sit as the treasurer of our foundation. It gives me a warm and fuzzy feeling each time we invest in making upgrades to patient care in our community.
Why is healthcare philanthropy important to you?
Phyllis: Since I was a child, I always liked to help and care for people. Being involved with the foundation gives me the opportunity to connect with people to find out what they want, what some of their needs are and how we can help fulfill some of those needs. We don't have answers for everything, but we can work on it and we can help. Sometimes the answers come just by doing that.
Dale: Philanthropy is about giving from the heart; making it better for others and caring. Seeing and hearing about the benefits truly brings an understanding to the importance of philanthropy. Typically, we will all have a need for healthcare services. Enhancing the healthcare service that's available locally is important to me. Allowing patients to access upgraded healthcare services locally is something our community supports along with our foundation.
What are some of the foundation's accomplishments of which you're most proud?
Dale: Over the years, the Rocky Health Foundation has succeeded in many accomplishments. Every new purchase is exciting and makes me feel good knowing it will enhance a patient's care or a doctor's ability to perform a procedure. This year, we purchased a new T1 Ventilator for the emergency room, SpaceLabs Qube Monitors for the emergency and operating room, Hill-Room Wound Surface Mattresses for acute care and a cardiac probe for the ultrasound machine. These will all have direct benefit to the operation of the Hospital.
What initiatives are coming up at the foundation?
Phyllis: Our biggest and most exciting commitment is $750,000 toward equipment purchases for the new operating room build at the Rocky Mountain House Health Centre. This will soon give our community two operating rooms, and will make an impact on operating room availability in our community.
How can Albertans support the foundation?
Dale: The Rocky Mountain House Health Centre provides coverage for a large area, and is ready to aid when needed. We encourage Albertans to support our local foundation to ensure we can continue to provide the needed equipment support for patients and doctors today and in the future. Donations are accepted through our website, mailed or dropped off at the local Health Centre. A special thank-you to everyone who has supported the foundation and continues to support us. It is much appreciated.
Phyllis: We also have two events coming up where the community can show their support. On Aug. 27, we'll be hosting a BBQ fundraiser at the Co-op Kids Carnival and we are also the charity partner for the Tim Hortons' Smile Cookie Campaign, taking part in Rocky Mountain House this September.
---
For more information on the Rocky Health Foundation, visit rockyhealthfoundation.ca.