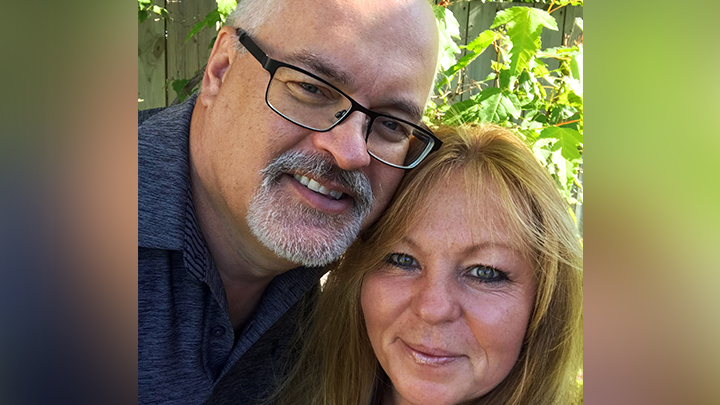 Shaun and Kim Hagan credit the quick action of friends as well as a team of AHS healthcare workers for stepping in to save Shaun's life when he went into cardiac arrest at a golf tournament in Fort McMurray in September 2021. Photo supplied.
Healthcare workers step up, save a life at golf tournament
Story by Logan Clow
FORT McMURRAY — Shaun Hagan credits the quick action and response of his friends, as well as a team of Alberta Health Services healthcare workers, for saving his life.
The Fort McMurray resident had just finished playing in a local golf tournament with his wife, Kim, and a group of co-workers and friends last Sept. 18. Seated at a table in the golf restaurant, the couple were about to order food when Shaun suddenly went into cardiac arrest.
"Everyone had just settled on getting chicken wings, and I recall looking over at Shaun to confirm the wing flavour he wanted, and he just immediately started convulsing," says Kim.
"I immediately yelled to our friends nearby and I said: 'Hey, help something's wrong with Shaun.' Our friends immediately ran over and helped him onto the ground. I then yelled to everyone in the restaurant that we needed somebody to do CPR. One of his friends from the golf tournament rushed over and quickly started it."
In a banquet room next door, registered nurses Samantha Castelli, Kelsey Hickey and Tasha Hofer, and respiratory therapists Nickolas Castelli and Tina Kuhr — all healthcare workers at Fort McMurray's Northern Lights Regional Health Centre — were just sitting down for dinner after playing in a separate golf tournament.
"One of the tournament organizers, who knew one of us, and had known that we worked at the hospital, came over to our table. In a calm manner, they told us there was an individual on the ground next door in some sort of medical distress. We knew right then what we had to do," says Nickolas.
"We all jumped up, and in single file, without even saying anything to each other, ran to help," adds Samantha.
"We identified we were healthcare workers, and the bystanders performing CPR let us jump in to help right away," says Kelsey.
"We immediately took over the situation as it's what we're used to doing at the hospital. We all took our spots, communicated with each other, and we knew what we had to do," says Samantha.
The team initiated a basic life-saving response. They started CPR, checked Shaun's head and airway, secured and used an on-site AED (automated external defibrillator), called 911 and worked with Kim to get Shaun's health history.
"The healthcare workers were really great to work with. When they came to help Shaun, they were just like angels," says Kim. "They were so calm, friendly and supportive. They were guiding me with what to do, and letting me know when I needed to back away for them to do their job. As soon as they were able to bring Shaun back, they told me to get right close to him and talk to him to let him I was there, and he's OK."
During his cardiac arrest, Shaun lost and regained his pulse several times. After the healthcare workers applied three shocks to him with the AED, and conducted six or seven rounds of CPR, his pulse returned to normal.
Shaun says he doesn't remember much about the incident
"I really don't remember any of it. There's bits and pieces that flashback, and there's people there who have told me what they saw. When I came to, it was actually with the hospital nurses who were helping me. I remember sort of apologizing to people in the restaurant for ruining the party."
The team of healthcare workers stayed with Shaun and Kim until EMS arrived. He was then taken to the Northern Lights Regional Health Centre — and later airlifted to Edmonton's Royal Alexandra Hospital for more comprehensive cardiac testing and care.
Shaun received a pacemaker in hospital and was discharged after 11 days.
"One of the tests determined that at the time of the incident, my heart was functioning at about only 15 to 20 per cent," says Shaun, who has a history of heart issues. "What they seemed to determine was that I went into a life-threatening heart rhythm at the golf event."
He credits the quick action of his friends and the team of healthcare workers for saving his life.
"I'm a lucky man. I am alive today because of everybody who jumped in and worked together to save my live. I'm ecstatic, grateful, humbled, and in a way, I'm super happy."
"The collaboration of our friends jumping in to do CPR on Shaun, and the hospital healthcare workers also jumping in to help, is what truly saved his life. Each of them are the reason why Shaun's able to be here today and share his story," adds Kim.
Members of the healthcare team say they're pleased with Shaun's positive outcome.
"I think our mindset was 'let's provide the best care possible and do the best that we can', and thankfully, we were able to save his life," says Nickolas.
"As a healthcare team, we were just really excited and proud because it was such a textbook response. We all worked and communicated so well together," adds Kelsey.
Shaun and Kim look forward to meeting the AHS team in-person one day to thank them.
"I certainly want to give them a big 'thank-you'," says Shaun. "The fact they were able to step in to help me, when they were having a dinner on their own personal time, is amazing. It's really hard to find the words to express my gratitude to them."
"It'll be more heartfelt and more meaningful than a 'thank-you' could ever mean," adds Kim.
Since his cardiac arrest in September, Shaun says he has not experienced any further setbacks with his heart. He's since completed a cardiac rehab program, remains healthy and exercises more often, and has regular check-ups with his cardiologist.