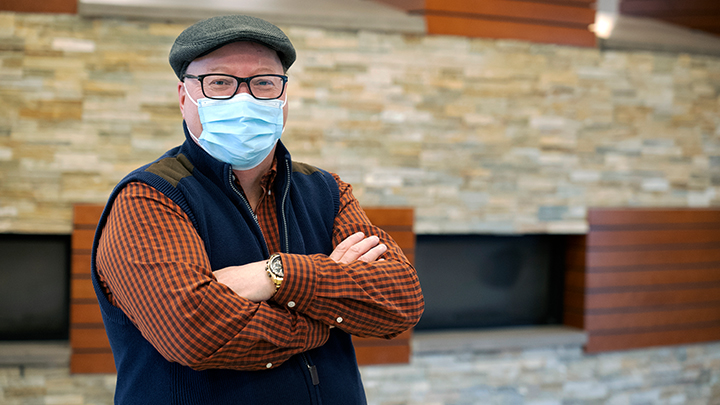 Ken Jackson brings his personal connection to healthcare — along with many years of business and volunteer experience — to his role as chair of the Fort Saskatchewan Community Hospital Foundation. Photo by Evan Isbister.
Meet Ken Jackson of Fort Saskatchewan Community Hospital Foundation
Story by Amelia Schofield | Photo by Evan Isbister
Alberta Health Services recognizes May as Health Philanthropy Month. Throughout the month, we'll be celebrating our philanthropic partners who raise funds for healthcare across the province.
The Faces of the Foundations profile series will introduce you to individuals who lead healthcare philanthropy across Alberta. This week, we are pleased to profile Ken Jackson, chair of the Fort Saskatchewan Community Hospital Foundation.
Why did you get involved with the Fort Saskatchewan Community Hospital Foundation?
Volunteering has been a part of my DNA my whole life. I've been a member of several boards and committees serving as chairperson with most groups. The Hospital Foundation is incredibly close to my heart because my father passed away of cancer when I was 16. Many of my family members have also suffered from cancer over the years. They are all still with us today because of the improvement in health services. It's rewarding to aid in the further advancement of healthcare through the support of our hospital foundation. Combining that with my outstanding personal hospital experiences makes supporting our hospital and staff vital to me.
Why is health philanthropy important to you?
Giving is a way of receiving. The reward of seeing what our aid offers to today's healthcare system provides a sense of importance that benefits our community. Over the years, I've seen people give in many ways. Some give their time, some financially and some with simple encouragement. I find that when you open your heart to others, they reach out to help. Sometimes the best reward is the stories of families whose loved ones received professional, compassionate healthcare from our hospital staff. Those stories touch my heart, making it easy for me to be a part of philanthropy. Healthcare in Alberta needs us more than ever before. Our foundation helps fill some of those needs.
What are some of the foundation's accomplishments of which you're most proud?
Our foundation has existed since 2005 and our volunteers have achieved so much in that time, such as funding a CT scanner. We are most proud of the Practice Readiness Centre (simulation lab) for training purposes. It enables staff to practise and master individual and team skills to enhance the quality of care. We also support research, women's health and fund equipment. One example is a Panda Warmer that one of our supporters generously funded. This was a valuable piece of equipment needed for the hospital's labour and delivery program.
I've been incredibly proud of how our foundation strategies have developed with a long-term vision over the last few years. We took advantage of the time during COVID-19 to connect with hospital staff, to support them and let them know how they're appreciated. We've also remained active by exploring new ideas to transform our fundraising efforts.
Additionally, we've funded much-needed equipment for the hospital. In the last year alone, we replaced a commercial dishwasher for the cafeteria staff, five Broda-style chairs and we're currently raising funds for 30 sleeper/recliner beds.
What initiatives are coming up at the foundation?
In addition to our ongoing events, we've recently formed a legacy endowment fund to create sustainability for the foundation. This endowment fund will allow our generous donors to continue to give long after they're gone. It can be a valuable tool for estate-tax strategies to benefit a person's family and support for our foundation. It is a gift that gives forever.
We'll also be back on the golf course this summer. Our golf tournament takes place Aug. 19 and will give the public with a fun way to reconnect with our board members.
We're also looking forward to 2023. Fort Saskatchewan sits on the North Saskatchewan River and fabulous walking trails surround us. One of our committees is developing a framework to host a Family Day fundraising event that will involve the casual walker to the avid cyclist combined with fun events for all ages, making for an exciting day in our community.
How can Albertans support the foundation?
As is the case of many fundraising organizations, volunteers and donations are especially crucial to our work. Board members from all backgrounds are encouraged to join. A cross-section of board members offers a variety of great ideas and contributions. Gifts of donations are necessary to continue the work we do. One-time or ongoing donations directly support Fort Saskatchewan Hospital and the needs of our community.
---
For more information on the Fort Saskatchewan Community Hospital Foundation, visit fschf.ca.