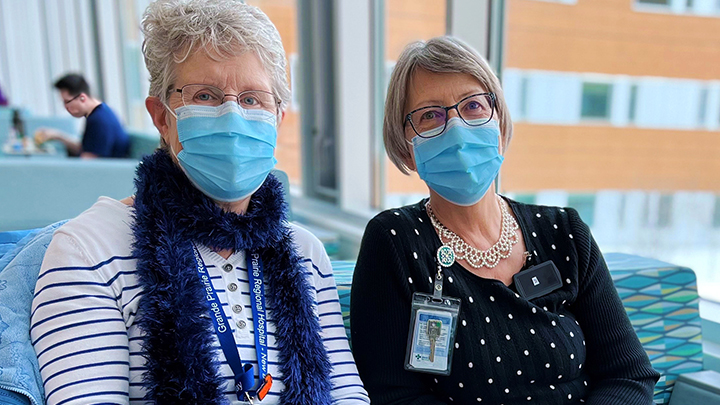 Dr. Marie Moreau, left, and Christine Ayling have teamed up to work on The Virtues Project at Grande Prairie Regional Hospital. Photo supplied.
The Virtues Project 'goes straight to the heart and spirit of all of us'
Story by Diana Rinne
GRANDE PRAIRIE — A global initiative that inspires the practice of virtues in everyday life is having local impact thanks to the partnership of social worker Christine Ayling, Grande Prairie Regional Hospital (GPRH), and oncologist Dr. Marie Moreau, Grande Prairie Cancer Centre.
The duo is building upon work started by Ayling at the former Queen Elizabeth II Regional Hospital (QEII) with an eye to raising awareness about The Virtues Project and putting it into action to help create a more inviting and inclusive staff culture at GPRH.
Linda Kavelin-Popov, one of the founders of The Virtues Project, says their intention is to make the sacred accessible. "If you're from a faith community, it will merely strengthen and add to what you already know. If you don't belong to that, it will still appeal, simply because it goes straight to the heart and spirit of all of us."
The Virtues Project was founded in Canada in 1991 by Kavelin-Popov, her husband Dr. Dan Popov and brother John Kavelin. Since then, the organization has identified hundreds of virtues in common to cultures and faith communities around the world. Though they may be practised differently from one culture to another, virtues are innate qualities of character which are universally valued, such as compassion, humility and understanding.
Ayling first learned about the project in 2000, and in 2002 completed her facilitator training. She began leading workshops in 2005 and since then has conducted more than 70 Virtues Project workshops.
"A lot of those have been within the hospital for allied health staff, nursing staff, and now for a number of years with the nursing students," she adds.
Almost two years ago, Ayling decided she would send a weekly virtues email as a way to relieve some of the weight of the COVID-19 pandemic from her colleagues.
With a deck of virtues cards that describe each virtue, Ayling chooses one and sends it out in an email. "I'd send that and then talk about how that virtue might apply to what we're all going through right now," she says. "It was really well-received — and people kept wanting to be added to the list."
It was during a QEII/GPRH Diversity and Inclusion Committee meeting that QEII senior operating officer at the time, Stacy Greening, asked Ayling if she could focus a virtues email on mental health.
"And then Marie Moreau piped up and said 'I'd like to help with that' — and we've been working together on it ever since," Ayling says with a smile.
"The positivity of it is what attracted me," says Moreau. "You can choose to look at the positive or the negative, and I think to actively choose to look at the positive is very important if we're going to make things better, not worse."
The duo plan to continue to work together to grow their weekly email campaign and distribution list.
"We've decided that we need to do something to help people figure out how they are going to relate to people who have very different opinions than they do," says Ayling.
"The level of divisiveness that's been created by all of the things happening in our world right now, we've had to figure out how to still stay in connection with people who have very different opinions from us — and it's not something we do well, generally speaking, as humanity."
Ayling will also continue to facilitate workshops for nursing students at GPRH.
"During the workshop there's an interactive introduction — a series of questions asked about virtues — 'which ones do you think are strong in you, is there somebody that you admire, what are their virtues', and just kind of back and forth like that," adds Ayling. "People are always blown away by what others see in them that they don't see in themselves."
She recalls a nursing student's memorable response to being interviewed during the interactive introduction. "He said it was 'like a massage for the soul.' That just made my month."
Both Ayling and Moreau hope The Virtues Project will take root across the North Zone and province.
"Because it's such a positive kind of reframing of things, I'm hoping that the hunger that I sense now for that kind of thing will help it grow. People are looking for something," says Ayling.
Moreau adds: "It's the idea of making it concrete or applicable — making it a part of your day and seeing examples of it — that really appeals to me."
---
Anyone who would like to receive weekly Virtues Project emails can contact Ayling at christine.ayling@ahs.ca, to be added to the distribution list. See more information on The Virtues Project.