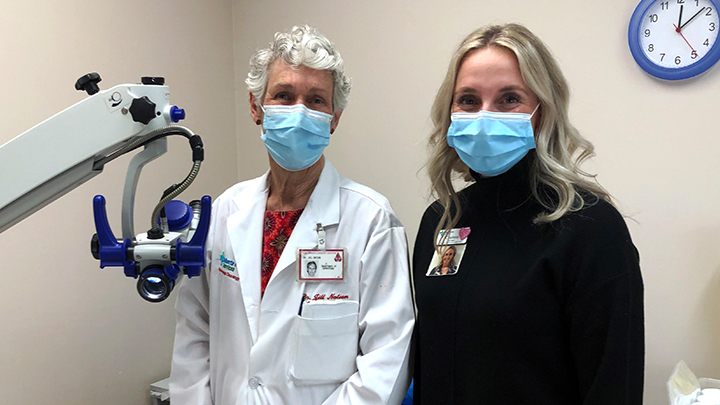 Dr. Jill Nation, a gynecological oncologist at the Foothills Medical Centre, left, poses with Chelsea Hamill, manager, Women's Health Clinic, in a colposcopy suite. The clinic recently expanded access to colposcopies to make it easier for women to receive care and complementary treatment.
Colposcopy clinic at Foothills improves care and convenience
Story & Photo by Blain Fairbairn
CALGARY — Women requiring a colposcopy will soon have a single clinic to visit for their care, adding convenience for both patients and referring physicians across the Calgary Zone.
Previously, depending upon specific clinical criteria, women were directed to one of two clinics in the city — either the Betty Flagler Colposcopy Clinic at the Holy Cross Site or the Women's Health Clinic (WHC) at Foothills Medical Centre (FMC). Some women who were sent to the Betty Flagler clinic, a service of the Tom Baker Cancer Centre, would then have to go to the WHC at Foothills for further care.
As of this May, all women who need a colposcopy — a diagnostic procedure to visually examine the cervix, vagina and vulva using a colposcope to detect and treat precancerous lesions early — will be seen exclusively at the Foothills site.
This move streamlines their care. Now patients can receive complementary services offered at FMC — such as day surgery and the Tom Baker Cancer Centre — while physicians will benefit from a simplified referral process to a single clinic.
Dr. Jill Nation, gynecological oncologist at FMC, says this change in service delivery offers numerous benefits to women who require a colposcopy.
"It can be unnerving for many women to be referred to a cancer clinic, especially when the majority of patients who receive a colposcopy don't have cancer," she says.
"Additionally, with all the specialists at one site, it creates a more cohesive team approach to patient care. By concentrating clinical service and expertise at Foothills, we work more efficiently and, ultimately, this results in enhanced care and treatment, because more time and attention is focused on the patient.
"From a convenience standpoint it's also much better for our patients — especially those who come from out of town."
Operationally, the merger of clinical services was achieved without any disruption in care, thanks to thorough planning and communication among clinicians, administrators and community providers.
WHC manager Chelsea Hamill says teams at both clinics have shown tremendous collaboration despite numerous obstacles.
"It's been inspiring to work with such a dedicated team to accomplish this merge," she says. "They've been exceptional at sharing their expertise, time and energy to accomplish this task. I am proud to work alongside them and appreciate this wouldn't have been possible without all their hard work."
The WHC serves around 5,900 patients annually and it is expected to welcome 1,700 additional women who would previously have been seen at the Betty Flagler.