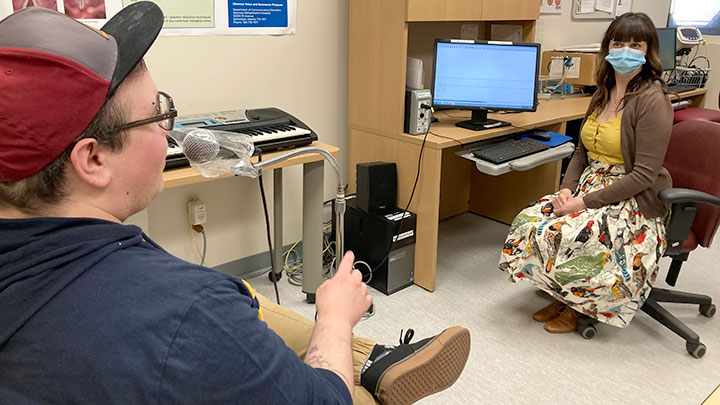 Speech language pathologist Teresa Hardy guides Parker Pothier, a non-binary transgender person who uses they/them pronouns, through voice exercises, helping to create a voice that matches how they see themself. While keeping a two-metre distance, Parker was allowed to be unmasked during the session so their pathologist could watch the shape of their mouth as they spoke. Photo by Evan Isbister.
Glenrose program helps patients tailor how they communicate
Story by Sharman Hnatiuk | Photo by Evan Isbister
EDMONTON — Parker Pothier, who identifies as a non-binary transgender person and uses they/them pronouns, learned to create a voice that matches how they see themselves thanks to guidance and support in the Voice and Resonance Program at the Glenrose Rehabilitation Hospital.
"When I got excited or energetic, I felt like my voice was breaking and that I didn't have stability," says Pothier. "My job is largely on the phone and I found it very stressful in situations on the phone where I was misgendered. I was struggling to perform my job while being able to represent myself in the way I wanted to be heard."
Pothier learned of the gender-affirming voice training through a local Facebook group; they discussed the option with their family physician, who then referred them to the program.
Once referred, speech language pathologist Teresa Hardy assessed Pothier's voice and communication characteristics, including vocal pitch, resonance, intonation, loudness, voice quality and articulation.
"In my role, I present options for voice change and guide clients through exploring different sounds and manners of speaking to find one that feels right for them — and to do so in a way that promotes healthy voice function," says Hardy.
For Hardy, helping individuals feel comfortable and confident in their day-to-day interactions is incredibly rewarding.
"Many of the people who come to this program have experienced marginalization at home, school, work or in their community. Many have experienced harassment or physical harm at the hands of others because of the way they communicate," says Hardy. "For some individuals, making their voice and other aspects of their communication congruent with their self-described gender identity and/or desires for gender expression can be life-saving."
Pothier is eager to help create awareness about the service by sharing their experience at the Glenrose.
"For each trans person, each non-binary person, each queer person, their experience is so unique. To be able to have the power and control to tailor your experience for what works for you is extremely empowering," says Pothier.
"Although it isn't talked about very much, there are a lot of people struggling with their voice. Having access to this program and working with people like Teresa helped me feel validated, and that my voice is important."