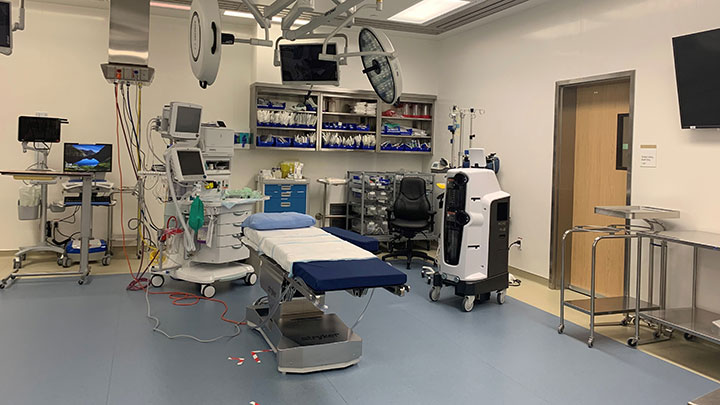 It's been a year since the Edson Community Health Centre began its cataract surgery program. In that time, 380 patients have been able to remain in their own community to have their procedure performed.
Closer-to-home surgery benefits 380 patients in first year alone
Story by Diana Rinne | Photo by Tracey Correia
EDSON — For Roy Mitchell, being able to have his cataract surgery done in his home community was "absolutely huge!"
"It's fantastic," he says. "They treated me first-class. I asked for sedation because I'm a bit particular about my eyes — so I just went and had a two-hour nap, came out and my eyes were done."
Roy is one of 380 patients who've been helped by Dr. Hermina Strungaru and the surgical team at Edson Community Health Centre since the program began providing cataract surgeries for area residents in May 2021. Surgical equipment for the program was funded by the Community Care Foundation of Edson and District.
"We've been going strong since last May," says site manager Tracey Correia. "We had a few months when the ORs were closed because of COVID, but other than that, our patients are thrilled."
Roy can attest to that. "Everything is really good. I went from really bad vision in my left eye, where I was really struggling to see, and now it's better than 20/20. I can see a mile away."
The game-changer for Roy and his wife Pat has been the fact that he was able to have his surgery done right in Edson rather than driving 200 km to Edmonton.
"I was 72 when I got it done," he says. "Driving to the city for us, and driving downtown in the city, is painful … You go into Edson here, you get it done and you go home. It is truly a gift to have that surgical hospital here in Edson now. It made it so easy for us."
Patients do, however, have to make one trip into Sherwood Park to see Dr. Strungaru for a pre-operative assessment before being scheduled for their surgery in Edson. For Roy, it was a quick two-week turnaround from the time he had his pre-op assessment to his surgery.
Currently, Dr. Strungaru and team are doing 18 surgeries a day, two times a month in Edson, but plans are in place to grow that number soon.
"A second OR will become available the first week of June," says Correia. "So we'll be able to increase our cataract surgeries."