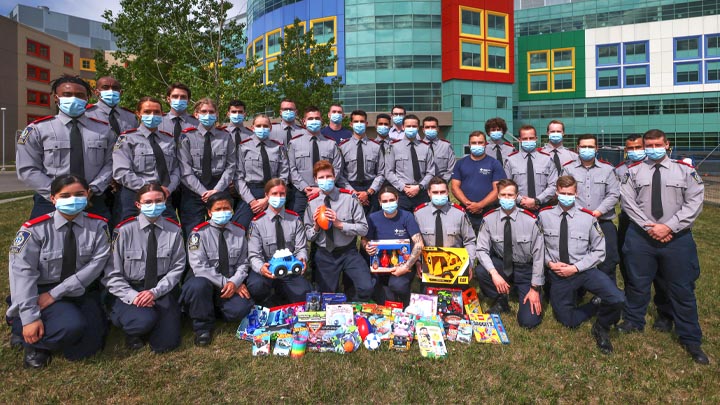 A group of Community Peace Officer recruits collected dozens of new toys for the Alberta Children's Hospital in Calgary.
Peace Officer trainees gather dozens of toys for Alberta Children's Hospital
Story by Cassie Ford | Photo by Leah Hennel
CALGARY — There's a lot more toys for girls and boys at Alberta Children's Hospital (ACH) thanks to a class of prospective AHS Protective Services Officers who went the extra mile to connect with their community and boost spirits.
The class of 37 recruits from across the province in the Community Peace Officer Induction Program teamed up to donate dozens of new toys on June 1. Their instructors emphasize that their role extends beyond law enforcement — it will also be about supporting patient care and serving the community. Recruits are encouraged to find their own ways to become a positive presence and connect with others.
"Every class is expected to give back in some way, and it's up to us to decide how to do that," says Alanna Folsom, a recruit based out of Edmonton who's in Calgary for the six-week course.
She and many of her class have previously worked in Alberta Health Services' (AHS) facilities, often as Paladin Security guards, before being hired on as protective services officers — and they know how difficult days can be for children in hospital.
"There were a few in our group who came from the Children's Hospital, and many others were passionate about it, so we decided on a toy drive," adds Folsom.
After spending their own money and collecting nearly 80 toys, they contacted the Alberta Children's Hospital Foundation to arrange the drop-off.
"They are a great group — they were really excited to make their donation — and we were really excited to receive it," says Stacy Kelly, a Gifts in Kind coordinator at the ACH.
Due to COVID-19 protocols, the recruits weren't able to enter the hospital, but Kelly met the group outside to accept their gifts and talk with them about their generosity. However, a few kids playing nearby noticed them.
"The kids were chatting with us through the fence and asking about our uniforms — it was really cute," says Folsom.
Kelly adds that one of the things she loves most about her job is that it allows her to witness firsthand how generous Albertans can be.
"I get to see what an amazing community we live in. People really want to give back and improve the lives of the patients and families that are staying here — and this was a special example of that."
---
Donations to the ACH are by appointment only and must be arranged with the Alberta Children's Hospital Foundation. If you are interested in donating, please contact kids@achf.com.