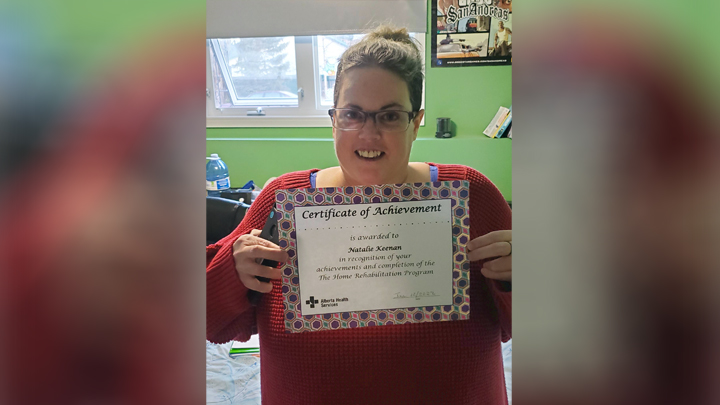 "It feels really good to see where I started and now where I've come. I'm seeing progress every day," says Natalie Keenan, a Lethbridge client of the South Zone's Home Rehabilitation Team, now celebrating its fifth anniversary. She's proud to show her Certificate of Achievement. Photo supplied.
South Zone's Home Rehabilitation Team celebrates five years of healing
Story by Kelly Morris
In celebration of their fifth anniversary this month, members of the South Zone's Home Rehabilitation Team (HRT) took a moment to catch their breath and reflect on their successes and the many patients who've benefited since the program's creation.
Managers Shayne Berndt in Medicine Hat and Risa Olsen in Lethbridge say they found it exciting to bring their staff together virtually to reminisce about their progress to date.
Inspired by the provincial Stroke Early Supported Discharge Teams, a model dedicated to intensive home-based rehabilitation for post-stroke patients, Berndt and Olsen asked back in 2017: 'How can we evolve the model to benefit other clients?"
Their question evolved into a true passion project, and soon thereafter they designed the program using existing resources and interested staff who came onboard. Professionals across several disciplines — occupational therapists, physical therapists, recreation therapists, speech-language pathologists, social workers, registered nurses, therapy assistants and dietitians — came together to help clients achieve their individual goals.
"One of the primary goals of this program is to get in there and help clients manage in their own environment so that we're avoiding needing a higher level of care," says Olsen. "If we're working with somebody in their own environment — doing cooking in their own kitchen, errands in the grocery store that they use — then the impact of that rehabilitation is stronger because it's the environment in which they're going to continue doing those activities. We encourage them to build it into their everyday life."
Through an extremely client-centred approach, HRT helps clients set realistic and achievable goals to accomplish over the four to 12 weeks they spend together.
"People can be quite intimidated by goal-setting, but we coach them through that. We really want the goals to be important to the client," says Olsen. "Whether it's having a shower by themselves, getting up and down stairs to the laundry, being able to use Access-a-Ride, book appointments by themselves or returning to a leisure activity — we set specific goals of what the client wants to be able to do."
After setting goals, HRT members discuss how each discipline can support their goals.
"Let's say they want to be able to walk down the block to pick up the mail," adds Olsen. "The physiotherapist is going to work on strength and endurance. The occupational therapist might look at any equipment they need, like a railing on the stairs at their house to get down the stairs to get to the mailbox. The dietitian is going to look at nutrition. Are they exhausted because they have inappropriate nutrition? They all come at the clients goals with their own specialty."
Over the past five years, clients have ranged from 21 to 90 in age with diagnoses involving physical health to mental health and everything in between. HRT support is focused on clients who would best benefit from a team approach and a range of services.
"The physical support is one thing you get, but the mental support is another thing, too," says Stuart Smith, a recent Medicine Hat HRT client. After suffering a broken hip that hospitalized him for a month, Smith transitioned home with the support of HRT and his wife Donna.
"We're there for the whole family," says Raeann Sharland, a therapy assistant who worked with the Smiths. "Stewart's wife needed our support, as well. We let her know that he's going to get better, and some pain is to be expected, during the healing process. We're also there supportively and emotionally for the entire family."
Smith proved to be an ideal HRT client, adds Sharland. Prior to his injury, he was involved in the community as a dedicated volunteer at the Esplanade in Medicine Hat as well as a regular attendee at coffee and other get-togethers with friends. He was highly motivated to return to his active life.
"I don't know where the saying came from — with broken hips, you have two options, you get better or you die," Smith says, then laughs. "I decided I wanted to get better. You just have to keep working at it, and the support system that I went through was wonderful. I couldn't have done it on my own. I couldn't have done it without these people and the help they gave me, both physically and mentally."
The nature of their intensive, daily program allows HRT to get to know their clients and "peel back the layers", says Sharland. "We set goals, but in order to understand the roadblocks to those goals, we have to dig deeper to find what the barriers are to getting there."
Building trust and rapport allows HRT to discover the real issues at the heart of their clients.
Natalie Keenan, a client with the Lethbridge HRT, says her own internal barriers could have prevented her from getting to where she is today.
"I had all this mental stuff going on, but I didn't really realize, it so I thought it was my physical health," she says. "But once I worked on my brain and my thoughts and feelings, it gave me more energy. I worked with a social worker — and it was really good because it was a safe place — in my home where I can open up and talk about the struggles I've been through.
"It helped me realize that there's a purpose to life every day when you wake up. It made me see the bigger picture in life and not dwell on the small things anymore."
Keenan says she first heard of HRT while preparing for discharge from St. Michael's Post-Acute Rehab Program but wasn't really interested, thinking she'd be fine on her own.
"It's the best thing I could have ever done for myself. If I had been stubborn and just stuck with my guns and told everyone no, I don't believe I would be as far ahead as I am today. I feel like they pushed me more than I thought I could push myself."
After clients complete the program, additional resources are put in place to ensure continued progress, giving clients the tools they need to be successful on their own.
Having completed her program last December, Keenan still received weekly in-home physical therapy.
"It feels really good to see where I started and now where I've come. I'm seeing progress every day, just little tiny progress, and I'm so excited I'm like a little kid again. It's been a wonderful experience. I basically owe my life to them. They've helped me more than they know."
---
The Lethbridge and Medicine Hat HRT programs are available by physician, healthcare provider or self-referral. If you or a family member would benefit from an intensive, transdisciplinary treatment plan, reach out to discuss criteria and eligibility. For Medicine Hat HRT, call 403-502-8648 ext. 1497. For the Lethbridge HRT, call 403-894-6144.