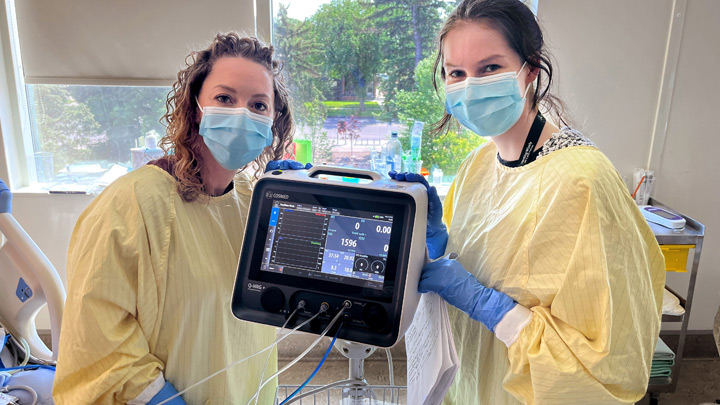 ICU registered dietitians Emily Stein and Lauren Tweel are pictured using the indirect calorimeter on a patient in the CRH's critical care unit. Photo by Rob Thomas.
New equipment calculates caloric needs with precision
Story by Sherri Gallant | Photo by Rob Thomas
A new piece of equipment at Chinook Regional Hospital (CRH) in Lethbridge is helping staff to precisely calculate how much nutrition to give critically ill patients who require feeding tubes or IV nutrition during their hospital stay.
The indirect calorimeter is about the size of a small laptop computer and is used by registered dietitians in Nutrition Services to determine a patient's energy expenditure (calories burned) to calculate how many calories should be given via tube feeding and IV nutrition.
The indirect calorimeter's non-invasive precision utilizes gas exchange (O2 and CO2) to complete measurements that makes it possible to avoid under- or over-feeding patients. Before it came along, the calculations were made by taking into account the patient's height, weight and age to estimate caloric input and output. The $35,000 instrument was purchased by Chinook Regional Hospital Foundation.
ICU registered dietitians Emily Stein and Lauren Tweel say they are pleased to have this cutting-edge technology for their patients.
"The indirect calorimeter measures energy expenditure so dietitians can more accurately determine the nutrition prescription for inpatients in ICU or surgery," says Stein. "It can optimize recovery to improve outcomes, shorten hospital stays, decrease ventilator days, decrease readmission rates and decrease time spent in the ICU."
Nutrition requirements can be difficult to predict in critically ill patients, as many factors such as stress, brain activity, inflammation, and medications can affect the amount of energy their bodies need.
This is the first indirect calorimeter in the South Zone; they are commonly used throughout Edmonton and Calgary zones. The indirect calorimeter is being used in the ICU and with some patients on surgical and medical units at the hospital, aiding in patient care of COVID-19, trauma, surgical cases, or other potentially life-threatening conditions. Stein and Tweel project it will be used for about 100 patients over the year, including those on mechanical ventilation.
"The introduction of the equipment was a very proud occasion for our dietitian team," says Tweel.
"It has allowed us to integrate the gold standard for determining patients' energy expenditure into our practice. That means that our nutrition support regimens (tube feeding and IV nutrition) are based on more accurate data, obtained from just 10 minutes or so of measuring gas exchange, so that we can avoid under- and over-feeding. It's exciting to be treating our patients with cutting-edge healthcare technology, and we are so grateful for the Chinook Regional Hospital Foundation's generosity which has made it possible."