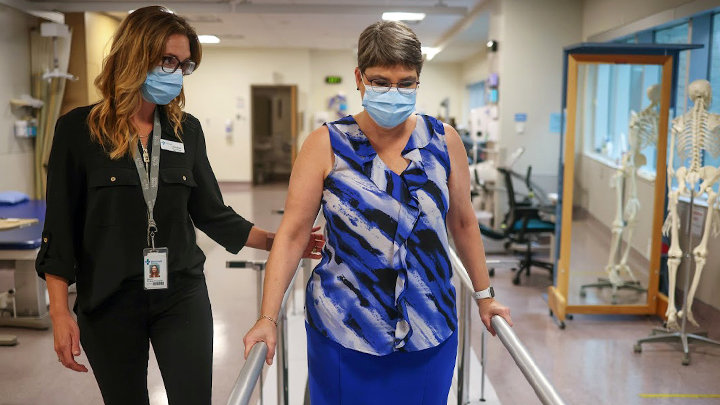 Vanessa Jollimore works on improving her walk under the guidance of physiotherapist Jacquie Townsend. Photo by Leah Hennel.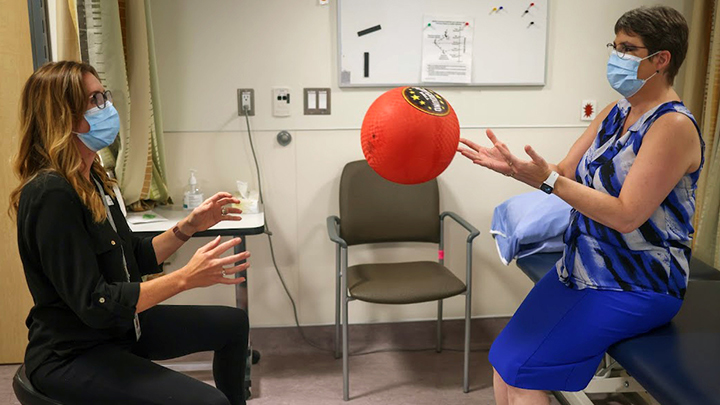 Physiotherapist Jacquie Townsend, left, plays catch with Vanessa Jollimore at South Health Campus in Calgary as part of Jollimore's rehab. Photo by Leah Hennel.
Care revolves around patients in weeklong intensive session
Story by Greg Harris | Photos by Leah Hennel
CALGARY — In September 2020, Vanessa Jollimore's body inexplicably began to let her down. One day she couldn't feel her foot and then soon after she couldn't feel her hand. Words began eluding her and although she thought she was making perfect sense, she wasn't.
"I thought it was temporary and would work itself out," she recalls. "Then one day I couldn't lift my hand, I couldn't walk, and I couldn't keep my train of thought. I was only 45 and I thought I was having a stroke."
It wasn't a stroke, thankfully, but a neurologist eventually diagnosed Jollimore with a Functional Neurological Disorder (FND), an umbrella term for a variety of symptoms that can include motor problems and cognitive issues.
Fortunately for Jollimore, she received care at the Alberta Health Services FND program at South Health Campus in Calgary, the only program of its kind in the province and one of only a handful across Canada.
"The FND program is life-changing," Jollimore says. "I thought I was going to be stuck using a walker for the rest of my life, but going through the program made me feel good again and made me feel whole. Everyone involved in it has given me such a gift."
A recent evaluation of the program shows patients report significant improvements in quality of life and significant reductions in healthcare utilization.
Patients work with allied health professionals including physiotherapists, occupational therapists, speech therapists and other medical specialists in an intensive weeklong program. Care revolves around the patient, instead of the patient having to travel from clinic to clinic.
"Arranging those appointments around a work schedule would be difficult, but to have it all done in one place made it so easy," Jollimore says.
Jacquie Townsend, an Alberta Health Services physiotherapist who helped establish the program in 2018, says it's gratifying to see patients like Jollimore improve so significantly.
"It has also been surprising to us that many FND patients have been able to go back to work during the pandemic," Townsend says. "FND patients are sometimes accused of malingering or faking symptoms, but they went back to work at a time when it's been even more stressful to do so."
Townsend, who was part of Jollimore's care team, describes FND as "an issue with the software, not the hardware."
In other words, FND reflects a problem with the functioning of the brain and nervous system as opposed to consequences of illness such as stroke or multiple sclerosis. It's the second most common reason to see a neurologist, after headache.
FND symptoms can include tremors, weakness, sensory changes, fatigue, dizziness, seizures and cognitive issues such as forgetfulness, word-finding difficulties, attention issues and problems communicating.
The care team helps address both the physical and psychological issues, and tries to equip patients for long-term success.
"We give them some tools and strategies to normalize faulty movements, with a focus on self-management. We know these can be complicated and can reoccur," Townsend says.
Today, Jollimore continues to use the exercises and strategies she learned for managing her condition. "The good thing is they're there to support you — even afterwards," she says. "People need to hear about this program and what a success it is."
---
The AHS FND program serves adults admitted to outpatient neurology at the South Health Campus. More information and resources regarding FND can be found at fndhope.org and neurosymptoms.org. For information about other AHS rehabilitation services in your community, see ahs.ca/adultrehab.