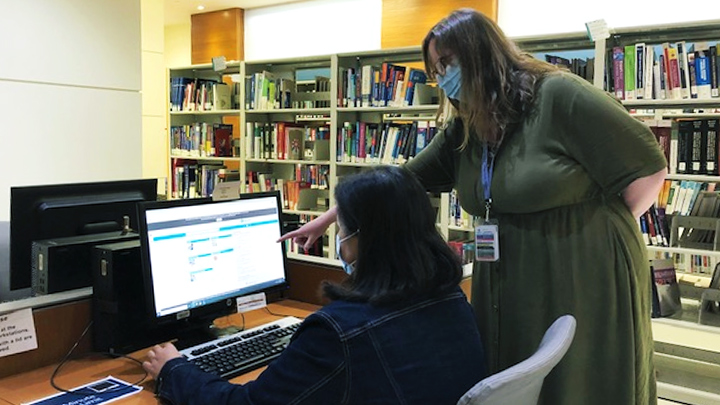 Knowledge Resource Service libraries reopened to staff, patients and families this past March, allowing the team to reconnect with their clients in-person. Photo supplied.
No question too big or small for Knowledge Resource Service
Story by Sean Woods
Looking for the latest information on disease or need research articles for a project? Look no further than our Knowledge Resource Service.
The Knowledge Resource Service supports decision-making and quality patient care by giving staff access to — and support in using — high-quality, evidence-informed information. This includes point-of-care resources such as Dynamed, journal article databases, subject guides, e-journals, assistance with literature searching and more.
"We get the full gamut of questions. That's because we serve everyone at AHS as well as our continuing care partners and some AHS affiliates," says Kathryn Tippell-Smith, team lead, Knowledge Resource Service. "There's no question that's too big or too small that comes our way.
"Maybe they have a patient who has a particular diagnosis that they're not familiar with, and so they might just come and say, 'Hey, can you get me a couple of things that will help me learn more'."
One of those people is Dr. Tara Klassen, research scientist for the Evidence Decision Support Program (EDSP). The program assists AHS and the Alberta surgical community in making evidence-informed recommendations about whether — and under what conditions — a new health technology or innovation may be introduced.
"There's a lot of literature that goes into making those decisions, and it's often complicated," says Klassen, who's also part of the Surgery Strategic Clinical Network as well as the Calgary Zone Department of Surgery. "From April 2021 to March 2022, we had 51 new intakes to the EDSP — and I reached out to KRS for support for every one of them.
"They are the experts in the evidence space. They understand the databases, they understand the quality and diversity of the information, as well as the peer-reviewed publications. They can find information in the corners of the web that would never have got on my radar. They are great partners to have!"
KRS closed their physical libraries at the beginning of the pandemic, for safety reasons, to help stop the spread of COVID-19. While they continued to deliver a robust variety of virtual services, staff and clients welcomed their reopening in March 2022.
"We really missed the connections we developed with people at the sites," adds Tippell-Smith. "Our staff have built a lot of deep roots at the hospitals, and a lot of our users say they really missed us. That was nice to hear."
It wasn't quite business as usual immediately after the re-opening, however, as they adopted new cleaning protocols and social-distancing standards at the time. The first stage of reopening welcomed staff and physicians and, more recently, patients and families.
"Patients and families often come to us for a variety of reasons and it's great being able to help them again," says Tippell-Smith.
"Sometimes they'll come to us for help with a form, or look for information that relates to their diagnosis. Whatever they need, we're happy we can help them navigate their healthcare journey."
---
In celebration of library month, starting Oct. 1, visit the Knowledge Resource Services (KRS) Virtual Library for special features where KRS staff will demonstrate how they can help you navigate the evidence.
You can also join them in-person at a KRS Library location on Wednesday, Oct. 12 (9 a.m. – 1 p.m.) and Thursday, Oct. 20 (noon – 4 p.m.) for an open house. Bring your questions or participate in short one-on-one demos of their Point of Care Tools.