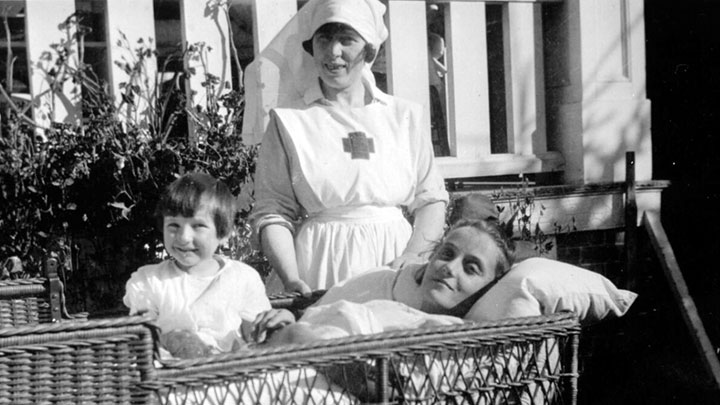 A uniformed nurse tends to her young charges at the Junior Red Cross Children's Hospital in Calgary in the 1920s. The facility evolved into the Alberta Children's Hospital (ACH) which is celebrating its centennial as a major pediatric care centre. Photo Supplied.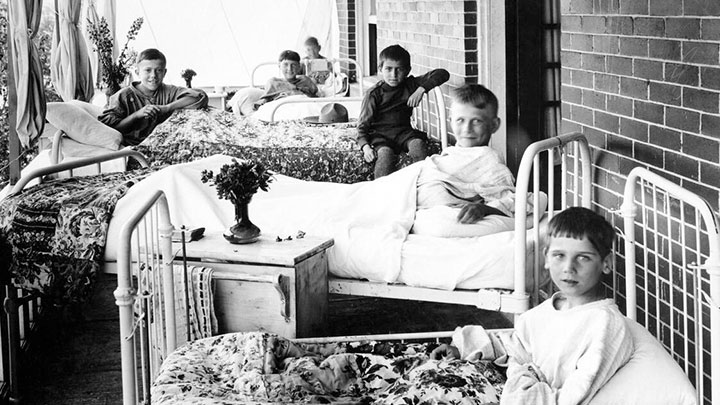 Boys catch some fresh air and sunshine on the veranda of the Junior Red Cross Children's Hospital in Calgary a century ago. Photo Supplied.
Calgary centre marks 100 years of caring for southern Alberta's children
Story by Janet Mezzarobba
CALGARY — It's been 100 years since the doors to the Alberta Children's Hospital (ACH) opened for the first time in 1922.
Over the past century, there have been countless families from all walks of life who've relied on ACH to provide high-quality care for everything from polio to tuberculosis, asthma, cancer, neurological, developmental and mental-health concerns as well as life-threatening trauma and, most recently, COVID-19.
"For the past one hundred years, ACH teams have provided exemplary patient and family centered care to thousands of Southern Alberta young people and their families", says Margaret Fullerton, senior operating officer, Alberta Children's Hospital.
"Thank you to all past and present ACH team members who have dedicated their career to providing a caring, safe, calming and supportive environment for children, youth and families facing acute, chronic and multiple complexities.
From being the first Canadian centre to offer bone-marrow transplants for Sickle Cell Disease, to launching hospital-level oncology care in the comfort of a patient's home through the Hospital at Home program, teams at the hospital have been part of countless significant achievements. Their work has helped to ensure the hospital remains an outstanding resource that families in Southern Alberta can rely on.
The ACH is also a vital education and research centre, widely recognized across the country and beyond, as it transforms care through research-driven knowledge and expertise.
Dr. Ian Mitchell has been an ACH respirologist since 1982. Throughout the years, he's watched technologies come and go, but says the one constant has been that "everyone keeps the child at the centre of all activities."
Zak Madell was one of the thousands of young Albertans who received care and treatment here. At the age of 10, Zak lost his fingers and legs to a septic staph infection. Now 28, he inspires others as a medal-winning paralympic athlete.
"The teams at Alberta Children's Hospital went above and beyond every day to not only to ensure my health and well-being, but to ensure the journey was enjoyable along the way," he says.
"From physicians showing up to give me treatment with a clown nose, to music therapists playing my favourite tunes, the teams at the hospital are truly the best at what they do."
From its early days as the Junior Red Cross Hospital to today's colourful Lego-style building on the hill in northwest Calgary, the hospital is dedicated to providing the best in care, education, research and innovation, to children, youth and families in southern Alberta.
When the current building opened on Sept. 27, 2006, it was the first free-standing pediatric facility to be built in Canada in more than 20 years. The facility originally opened on May 19, 1922, as the Junior Red Cross Children's Hospital.
"We look forward to the next 100 years and the outstanding care the dedicated teams in this hospital will research and provide for future generations," says Fullerton.